The Great Craven Spring Clean is a huge success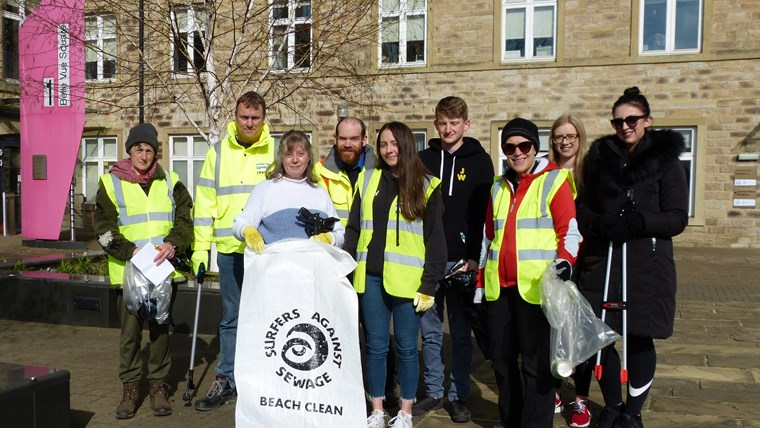 Scores of residents turned out to join Plastic Free Skipton, Craven District Council, Friends of Aireville Park and other community groups in cleaning up Skipton on Saturday, April 6.
Volunteers picked up dozens of bags full of litter around Aireville Park, Gawflatts Meadow, Middletown, Sandylands and other areas of the town as part of the Keep Britain Tidy Great British Spring Clean.
Groups in Lothersdale, Ingleton, Gargrave, West Marton, Clapham, Cononley, Embsay and Bradley have also been taking part in litter-picks.
Craven District Council staff volunteered on April 6 and the Council has provided rubbish bags, a limited number of litter-picking grabbers, and collection of any litter, to groups around the district.
Amy Brown, co-leader of Plastic Free Skipton, said: "We're delighted that so many people turned out to support the Spring Clean.
"We hope this event will make people really think, and discourage people from littering in the future.
"Plastic litter doesn't just go away. It's here for ever, hurting our wildlife, choking our rivers and filling our oceans. But we can all make a difference by firstly limiting the plastic and other resources we use and then recycling and disposing of any waste properly. We can all make an impact even with small changes."
Paul Ellis, Director of Services at Craven District Council, said: "It is shocking how much litter we collected in just a couple of hours.
"Our staff work hard all year round to help keep Craven clean and we are currently carrying out litter-picking on the verges on the main roads around the district.
"However this event shows that we still need to educate people and try to stop them from spoiling our beautiful district in the first place."
Fiona Protheroe, chairperson of Friends of Aireville Park, said: "We were pleased to see so many people turn out to help us keep the park tidy. So many families are coming to visit the new children's playground now it has been completed and we hope this will encourage people not to spoil it with litter."
The litter collected in Skipton will be separated into recyclables and non-recyclables, and Craven District Council will hold a display on Skipton Market on Wednesday April 10, to raise awareness of the issue of littering.
The litter will also be part of the Surfers Against Sewage nationwide plastic audit, naming and shaming the top 10 brands of plastic litter.
Residents can organise their own litter-picks at any time of the year. For assistance from Craven District Council with rubbish bags and collection, email wastemanagement@cravendc.gov.uk
The aim of Plastic Free Skipton is to gain Plastic Free town status by reducing single use plastics across the town. To find out more about Plastic Free Skipton, check out their Facebook page. The next Plastic Free Skipton meeting is on Thursday May 23 at 7pm at Steep and Filter.