You are here:
Craven residents reminded of changes to bin collections during the week of VE Day
Craven residents reminded of changes to bin collections during the week of VE Day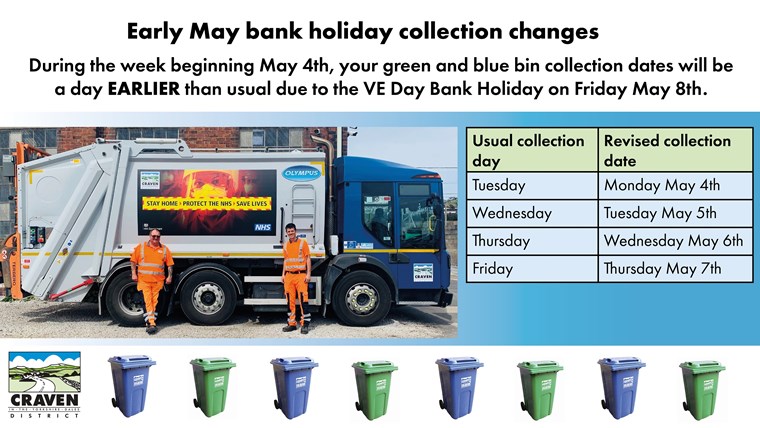 Residents in Craven are being reminded that their green and blue bin collections will take place a day early during the week of VE Day. (May 4 to May 8)
As the early May Bank Holiday falls on Friday May 8 this year to mark VE Day, there will be no collections on that day.
This means that if your bin is normally collected on Tuesdays, it will instead be collected on Monday May 4.
If your bin is usually collected on Wednesdays, it will be collected on Tuesday May 5. If your normal collection day is Thursday, it will be collected on Wednesday May 6, and if your usual collection day is Friday, it will be collected on Thursday, May 7.
These changes only affect domestic collections (green and blue bins). Brown bin collections will take place as normal during this week for residents who have subscribed to the garden waste service. Brown bins must display a valid licence to ensure collections take place.
In the week following VE Day, the collections will be back to normal.
All households should already have received notification of these changes on a leaflet enclosed with their council tax bills.
Bin calendars can be checked at www.cravendc.gov.uk/your-area