You are here:
Craven District Council investigates asbestos fly-tipping
Craven District Council investigates asbestos fly-tipping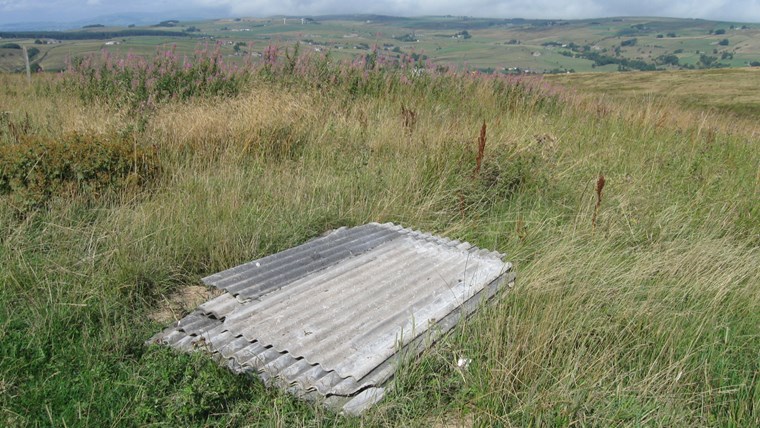 Craven District Council is investigating after a number of asbestos sheets were found fly-tipped in Cowling.
Council officers are urging anyone with information about the asbestos to come forward.
The waste was found in the Pinnacle Car Park, Buck Stone Lane, Cowling.
Paul Ellis, Craven District Council's Director of Services, said: "We would like residents to think about where this could have come from. Have you had any asbestos removed recently? Did you pay someone to dispose of the asbestos? If so, did the person you paid supply you with proof of disposal?
"If you recognise the waste then please get in touch with us to help prevent this happening again.
"Asbestos is a dangerous material and must be disposed of correctly. Fly-tipping this material is extremely irresponsible."
Asbestos can be costly for the council to clean up, as a specialist company will need to remove it, due to the toxic fibres in the material.
Anybody with any information about the fly-tipped asbestos is asked to contact Craven District Council's Cleaner Neighbourhoods Team on 01756 700600.
Asbestos may be harmful if broken up and the fibres disturbed, so residents are advised to stay away from the immediate area until it is removed. Craven District Council's Waste Management Team is arranging for its removal as soon as possible.
When removing asbestos from their own home, householders can dispose of it at the Household Waste Recycling Centre on Harrogate Road, Skipton. The asbestos needs to be double wrapped in thick plastic sheeting such as damp proof membrane. More information is available here: https://www.northyorks.gov.uk/asbestos 
However many people choose to use a contractor to remove the waste due to the hazardous nature of the material. All householders who want to hire an asbestos removal contractor should check that they are a registered waste carrier. This can be done on the Environmental Agency's public register: https://environment.data.gov.uk/public-register
They must also ask to see the contractor's asbestos licence; this allows them to handle asbestos and to dispose of it at a registered amenity site. You can also check that contractor has an asbestos licence here: https://webcommunities.hse.gov.uk/connect.ti/asbestos.licensing
Penalties for environmental crimes can vary but do include fines of up to £50,000 and/or up to 12 months imprisonment.