Work begins on £2m Craven canal towpath project improving traffic-free access to Yorkshire Dales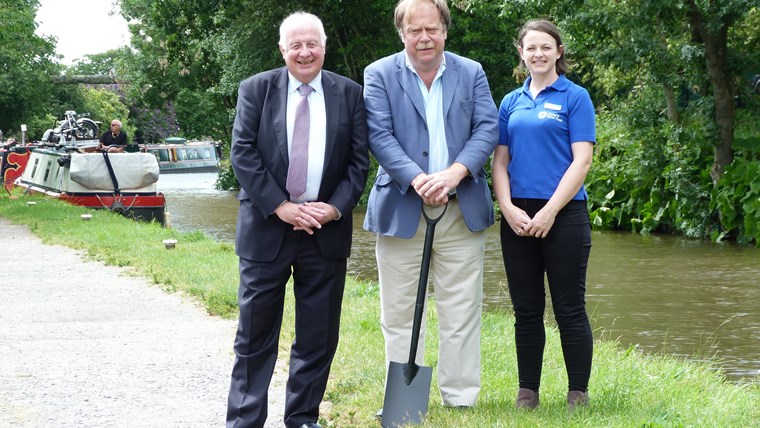 Work has begun on a £2 million project to improve almost seven miles of towpath along the Leeds & Liverpool Canal, between Skipton to Gargrave, and Bradley to Kildwick.
Canal & River Trust, the waterways and wellbeing charity that cares for the canal, has secured funding from the European Agricultural Fund for Rural Development with further support from Craven District Council and the York, North Yorkshire and East Riding Local Enterprise Partnership. 
The project will carry out a series of towpath and waymarking improvements identified in the Access Development Plan, commissioned by Craven District Council and written by Sustrans, to improve accessibility along the Leeds & Liverpool Canal in the District. 
These improvements will include resurfacing the towpath and widening the path at key hotspots, including Gargrave and Broughton Road, that will provide better access to and from Skipton railway station and employment sites in the town. 
There will also be new 'welcome' and information boards about key points of interest and visitor facilities in and around the canal, and additional waymarking signage to help people find their way onto the waterway.  A new canoe portage point in Gargrave, in association with Desmond Family Canoe Trail, will help paddlers get onto the water and enjoy the coast-to-coast canoe trail.
Sean McGinley, regional director Yorkshire and North East at Canal & River Trust, said: "We're delighted to announce that work on this project is now underway to help residents and visitors spend time by water, which our research shows helps to boost our physical health, mental wellbeing and happiness. 
"The canal is a great place to get away from it all, to enjoy an early morning dog walk, a weekend stroll with the family or traffic-free cycle to work and we hope this project will help even more people do just that and discover this year-round visitor destination and traffic-free gateway to the Yorkshire Dales."
Luke Edwards, project manager at Canal & River Trust, added: "We expect construction work on the towpath to be completed by mid-January 2020.  We will make every effort to reduce inconvenience and disruption to users as work is being carried out on the towpath and will conduct a rolling schedule of closures, so sections along the seven miles will remain accessible.  Please check our website for up-to-date details on these closed sections."
From Monday 22 July towpath users will be affected by the following closures:
Bridge 174 (Thorlby swing bridge) to Bridge 175 (Niffany swing bridge)
Br 169A Anchor Bridge to Br 170 Highland Bridge
Councillor Simon Myers, Craven District Council's lead member for Enterprising Craven, said: "We know residents are really keen to see these improvements take place so they can make the most of their local canal towpath, so it's great to see work starting.
"As well as improvements to the towpath for the benefit of the local community, we hope to attract more visitors and businesses to the area, with what will be a beautiful traffic-free route into the Yorkshire Dales and South Craven.
"The work currently underway around the canal waterfront in the centre of Skipton will complement this scheme as we aim to make the whole area even more attractive and accessible for residents and visitors."
Professor Colin Mellors, a member of the York, North Yorkshire & East Riding Local Enterprise Partnership Board commented, "We are delighted to be working with Craven District Council, the Canal & River Trust and their partners on this scheme which is a great example of the LEP's commitment to supporting our distinctive 'places'.  Improving our towns, and developing their infrastructure, provides tangible benefits for our residents, communities, visitors and businesses.  In Skipton, this initiative will also improve connectivity between the station and business sites across the town."
Check online for the latest details on towpath closures that might affect visitors: https://canalrivertrust.org.uk/notices
For a free guide to days out on your local canal and how you can help support it visit www.canalrivertrust.org.uk/local-to-you