Architects appointed to develop Skipton Station Triangle Masterplan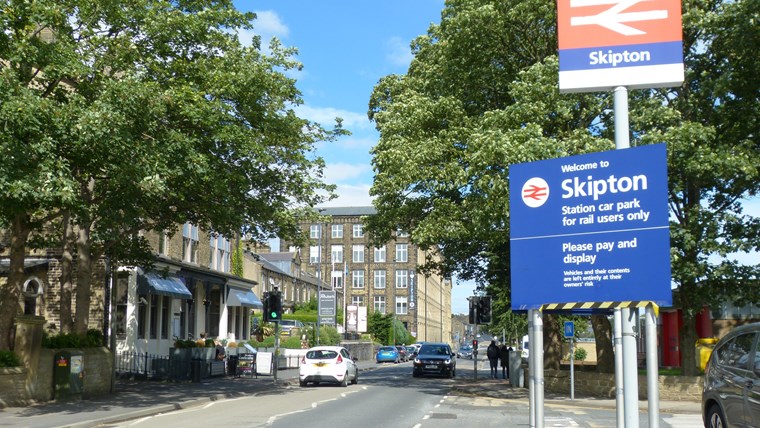 Craven District Council has appointed world-leading architects, Allies and Morrison to develop a masterplan to transform the area surrounding Skipton Railway Station. 
The masterplan will seek to build on Skipton's unique features and success, aiming to improve the area around the station for visitors and residents, and promote growth opportunities, while improving the area's connections with the High Street and the rest of the town.
The masterplan is being funded via the York, North Yorkshire, and East Yorkshire Local Growth Deal, via the York & North Yorkshire Local Enterprise Partnership.
Allies and Morrison are a global practice of architects who have worked on a variety of masterplan projects including the redevelopment of King's Cross and York Central. 
Councillor Simon Myers, Craven District Council's Lead Member for Enterprising Craven, said, "The Skipton Station Triangle provides a real opportunity to improve this part of the town, stretching from Wyvern Park in the west, through to the High Street. 
"Skipton Railway Station is the second busiest rail station in North Yorkshire and we want to improve the experience of people arriving into the town. It's important to us that we enhance the setting of the town's heritage assets and create an attractive and welcoming gateway to the town.
"We also want to encourage people to make more journeys on foot, bicycle and public transport, and this will mean improving connections between the town centre and Railway Station, and neighbouring employment and residential areas.
"We're really pleased that this project generated such a lot of interest and that we were able to appoint a world-leading company to help us develop this vision for Skipton. The interviewing process was fascinating and made clear the challenge for us District Councillors and our Communities to think about how best to create opportunities for regeneration post Covid in a deliverable, sustainable and environmentally caring way.
"As the masterplan develops, feedback from residents and businesses will be really important, so do look out for consultation events which are due to take place this autumn."
Craven District Council undertook a comprehensive and competitive procurement exercise with the support of its procurement partner for this project, Cirrus Purchasing, which generated significant interest from architectural and planning practices throughout the UK. 
Allies and Morrison will be consulting widely with residents, businesses, and key partners throughout the process, beginning in the autumn via a mixture of events and online opportunities. Should the ongoing Covid-19 situation continue to impact on public events, Allies & Morrison has developed contingency plans that will allow engagement to take place virtually.
Further details of events and opportunities to engage with the consultation will be released closer to the time.
Anthony Benson, a Director with Allies and Morrison, said, "We're thrilled to have been appointed to work with Craven District Council and its partners to develop a masterplan for the Skipton Station area. We look forward to meeting with and speaking to local people and businesses to help us set out a long-term vision for the area. We want to help make Skipton the town of choice for those who want all the advantages of an historic town centre location, with great access to clean air and the open countryside."
Allies and Morrison will be supported by emerging architects Mcmullan Studio; leading engineers, Buro Happold, and property experts, Cushman and Wakefield.
Mcmullan Studio, who were founded in 2018, recently won a RIBA sponsored competition to design affordable housing for young people in the Craven area.  Andrew Mcmullan, founder of Mcmullan Studio, said: "Creating healthier and happier towns and cities is central to everything we do. We can't wait to work with everyone in Skipton to make their hometown an even better place to live, work and visit."
David Dickson, Chair of the York & North Yorkshire Local Enterprise Partnership Infrastructure and Joint Assets Board said: "This is part of a wider £4.6m Local Growth Fund contribution secured by the LEP for Skipton to support priority areas including the creation of successful and distinctive places and ensuring there is a well-connected local economy. It also matches the LEP's vision for economic recovery from Covid-19, which promotes a greener, fairer, stronger economy with opportunities for innovation and change across the region."
The masterplan will be completed by March 2021 and will provide a vision to support the Council's wider growth ambition for Skipton, and additional planning guidance to support development in the area, which will supplement the Council's Local Plan, which was adopted in 2019.