You are here:
Extra funding for Skipton Town Hall agreed by Craven District Council's Policy Committee
Extra funding for Skipton Town Hall agreed by Craven District Council's Policy Committee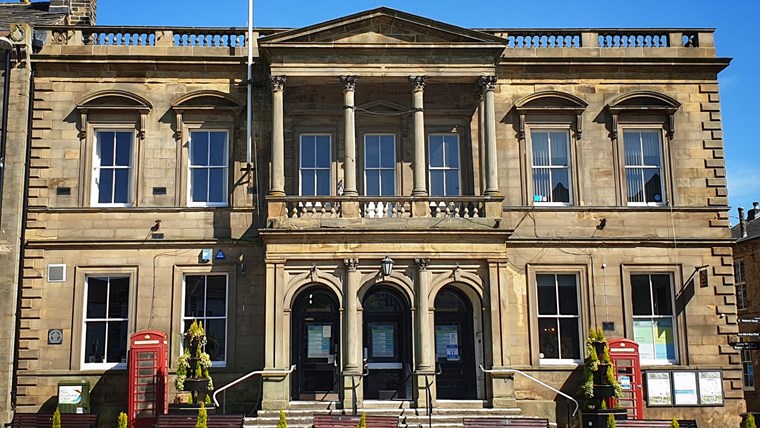 Craven District Council's Policy Committee has approved proposals to allocate an extra £100,000 of contingency funding towards the redevelopment of Skipton Town Hall. 
The decision will need to be approved by a meeting of full Council on August 5.
The Town Hall is being transformed into a cultural hub for the district, with a fully upgraded Craven Museum and Exhibition Gallery, a restored Concert Hall, dedicated education space and improved facilities. 
Construction work is continuing and the team has worked hard to limit the impact of Covid-19, but this has had an effect on the project.
Work has continued, with a reduced workforce on site, in line with national guidance. This has increased the time and cost of the project.
There have also been some key unforeseen issues with the listed building that have resulted in large additional costs, including a lack of foundations discovered under part of the Concert Hall.
Councillor Simon Myers, Craven District Council's Lead Member for Enterprising Craven, said: "This is a very important project and will be key in the regeneration of Skipton and Craven in due course.
"It's unfortunate that it's going to cost more, but it is so worthwhile in the long run.
"We expect the Town Hall Cultural Hub to form a key aspect of our wellbeing and economic recovery following Covid-19. This will have a positive impact on Skipton High Street itself, the town as a whole, and across the District through the village halls network, currently being established as part of the Rural Culture project the team are running during closure."
The meeting heard that before redevelopment, the building cost around £300,000 per year to run and maintain, with little benefit to the wider community. After the redevelopment, it will cost less to run and provide a cultural hub for many more people.
The Policy Committee approved a supplementary capital estimate of £100,000 to increase the contingency required to complete the project.
The Council will seek to reclaim any additional costs specifically related to Covid-19 from Central Government schemes.
Whilst the Town Hall has been closed for redevelopment, the Cultural Services Team have been conducting outreach, events and opportunities to engage with museum collections across the District.
Before the Covid-19 lockdown, in the year 2019/20 the team ran over 30 events and performances in partnership with village halls throughout Craven, and engaged around 1,200 schoolchildren across the district in education outreach projects.
Since lockdown, the team has offered a range of online activities and opportunities to make and participate via their website and social media.