You are here:
Shared ownership is making housing affordable for Craven families
Shared ownership is making housing affordable for Craven families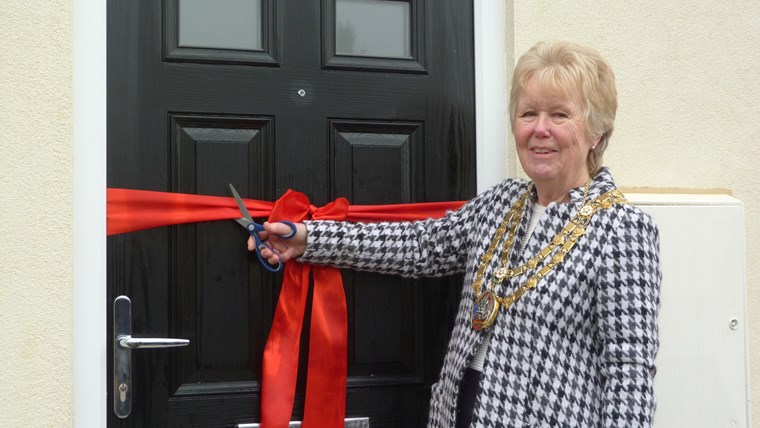 The grand opening of four new shared ownership homes in Glusburn has taken place – giving more people an affordable way of getting on the housing ladder.
Craven District Council chairman, Councillor Wendy Hull, cut the ribbon to mark the completion of the two-bedroom homes, which have all been sold subject to contract.
Craven District Council has worked in partnership with Homes England who helped fund the project, and the builders Ellison Construction, to develop a former council-owned garage site.
Councillor Hull said: "The councillors and officers of Craven District Council are very pleased to be playing a direct part in delivering affordable homes in our local area.
"This site is one of several garage and other locations across the district that will be developed specifically to provide shared ownership housing – meaning that the buyer initially shares the costs of ownership with the council, so making it affordable.
"In this way, Craven District Council demonstrates its ongoing commitment to help those, particularly young families, who are struggling to find a property within their price range.
"I am very pleased and honoured to officially 'cut the ribbon' here today to mark the completion of the project and to thank all of the team for their hard work, of which they should be justly proud."
One resident has already moved in to the new development. She said: "It has made such a difference to the quality of mine and my children's lives already. Moving back to the area has shown how tied we are to Craven as schools, work and football clubs are there, as well as most of our friends and family.
"The house is so lovely and immediately felt like home. It felt like a new phase when we moved in, one that I could not have achieved if it hadn't been for the house being affordable."
Shared ownership is designed for people who cannot afford to buy a house on the open market but still want to get on the property ladder.
An initial share is bought (usually 25% to 75%) and then rent is paid on the remaining part. To qualify for shared ownership, you must be unable to afford a home on the open market and you must not earn more than £80k per year. Some schemes also require a local connection.
Craven District Council's first shared ownership scheme opened in Burnroyd Avenue, Cross Hills, in 2017, providing three homes on another former garage site.
Harper Grove, in Sutton in Craven, is another former garage site which will provide three two-bedroom homes, due to be available soon.
The council has also recently acquired three homes at Raines Road, Giggleswick, from local builder Burley Developments, which are being sold on a shared ownership basis through estate agent Carling Jones.