Multi-agency 'day of action' cracks down on illegal activity in Craven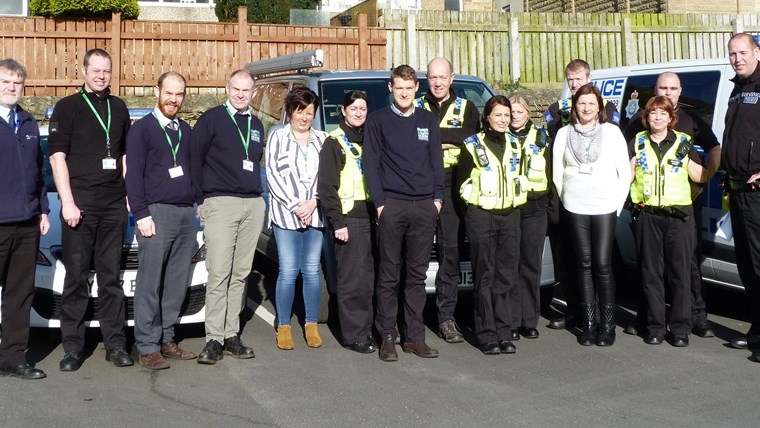 Officers from Craven District Council joined forces with police and a range of other agencies on Friday February 2 to check a number of businesses for any illegal activities.
Spot checks were carried out on businesses and uncovered a range of issues around immigration, commercial waste, smoking and vehicle offences.
One particular business was suspected of employing an illegal worker. The shop owner was interviewed and reported for the offence, which can lead to a fine of £20,000. The business in question will also have their licence reviewed.
Environmental Health officers identified four commercial waste offences, including one which led to the temporary closure of the premises, where rat droppings were found in amongst food items. Two people were found smoking in a smoke free premise, which can carry a maximum penalty of £200. One littering offence was witnessed where a cigarette was thrown from a vehicle, which can lead to a maximum penalty of £2,500.
Police and PCSOs carried out stop searches, which resulted in the retrieval of an offensive weapon from a known individual. Five traffic offences were reported, including one resulting in a section 59 warning. Six vehicles were seized, two for no tax and four for other offences identified by the Driving Standards Agency.
Ten taxis were stopped for checks. One with an illegal tyre was taken off the road with immediate effect and a further two vehicles were required to take MOTs in the next four days to sort out prohibitions found.
Craven District Councillor Andy Solloway, vice-chairman of the Community Safety Partnership and chairman of the Safeguarding Strategy Group, said: "This was an excellent initiative and all the agencies involved got something from this proactive approach. The success of this day means that more will be planned in the future.
"Days of action like these are about creating an environment where it is less likely to be able to use businesses as a vehicle or front for illegal activity.
"For Craven District this means that residents and visitors alike are offered the assurance that it remains one of the safest places to live work and visit."
Sgt Paul Evans, Skipton Neighbourhood Policing Sergeant, said: "I'm delighted at the results from the day; this made all the resources, time and effort put into the planning, very much worthwhile. We will definitely be organising further days of action, we had some excellent outcomes from this."
Craven District Council's Licensing Manager Deborah Bragg said: "This was an excellent exercise which at the very least reminded businesses of their responsibilities. All agencies gathered a wealth of information and intelligence on the day which may not have been gained had the day of action not taken place. We found out some important information about the night time economy which is particularly useful to us in licensing."
David Harris, Assistant Director for Immigration Enforcement, said: "We are happy to work with businesses to explain the simple pre-employment checks needed to establish a person's right to work in the UK, but to those who choose to ignore the rules the message is clear - we will find you and you will face a heavy financial penalty.
"Illegal working is not victimless, it undercuts honest employers, cheats legitimate job seekers out of employment opportunities and defrauds the public purse.
"I urge anyone with specific and detailed information about suspected immigration abuse to get in touch."
Officers from Craven District Council's Community Safety Hub, Licensing and Environmental Health worked collaboratively with the Fire Service, Police, Trading Standards, Immigration, Victim Support/The Children's Society, NYCC passenger transport and the Driver Standards Agency on the day.
Other checks involved ensuring that businesses licensed to sell tobacco were not selling to underage children, and making sure non-compliant, illicit or counterfeit goods were not being sold.
Officers also checked that 'no smoking' signs were in place in all public areas, food standards were being kept, health and safety regulations were being adhered to and that waste products were being disposed of correctly.
Modern day slavery, trafficking and child protection was another focus for agencies like Immigration, Police and Victim Support.
Anyone wishing to report suspected illegal activity is asked to contact police on 101 or Crimestoppers on 0800 555111, or contact the Craven Community Safety Hub on 01756 706362 or 01756 706291. To report an Environmental Health issue please go to www.cravendc.gov.uk/cleaner-neighbourhoods