You are here:
Skipton Information & Visitor Centre has a new home
Skipton Information & Visitor Centre has a new home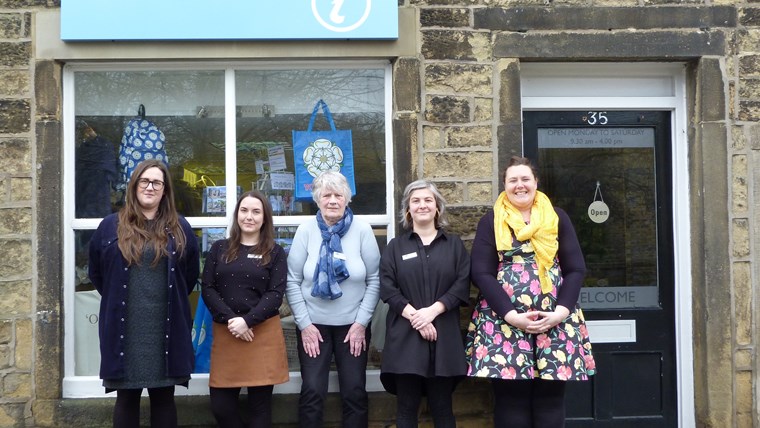 Skipton Information & Visitor Centre staff have moved into their new home on Coach Street while the Town Hall refurbishment takes place.
All the information available for tourists, visitors and residents has been moved to the new building along with a wide range of gifts and souvenirs.
The branding of the centre has also been updated to appeal to tourists and local residents alike.
Kirsty Sharratt, Visitor Services Coordinator, said: "At the Information & Visitor Centre, we provide a wealth of information, from assisting the public with finding contacts for local businesses, schools and other public services, to information about attractions in Skipton and the Yorkshire Dales, even as far as the Lakes and over the border into Pendle, and ideas on walks, local attractions, transport information and so on.
"There is very little that we can't find out for our visitors. Our fantastic team of staff and volunteers are equipped with a vast and vital knowledge base and people often drop in just for a friendly and good humoured chat.
"Although the new centre is smaller, we are still selling a fantastic range of gifts and souvenirs - not only for visitors to Skipton to enjoy. Often local people call in to buy items for gifts and presents which are sent off to countries all over the world."
The Information & Visitor Centre is open from 9.30am to 4pm, Monday to Saturday. To contact staff, please email skiptontic@cravendc.gov.uk or call 01756 792809.
Skipton Town Hall will be closed for refurbishment until spring 2020 when the Information & Visitor Centre will move back in.
During the closure, Town Hall staff are preparing a touring programme of performances and events, and Craven Museum staff are also launching a roadshow, with the first Museum event taking place at Embsay Library on Friday February 8, 2019, from 2pm to 5pm.