You are here:
Craven District Council begins planting thousands of trees in Aireville Park
Craven District Council begins planting thousands of trees in Aireville Park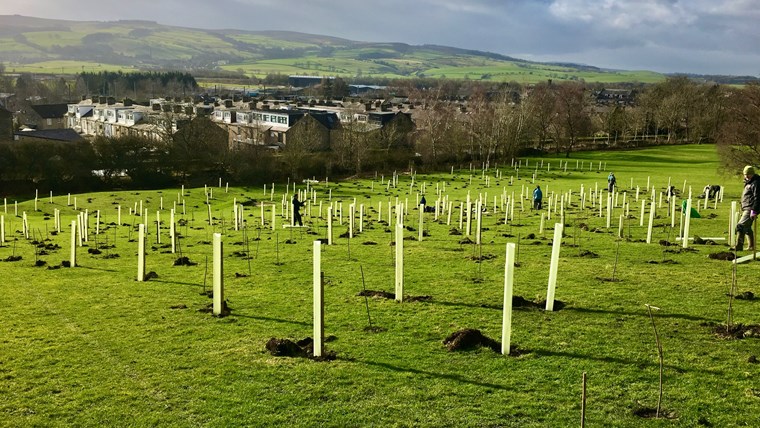 Craven District Council has started work to plant thousands of trees in Aireville Park.
With the help of the Aire Rivers Trust and their volunteers, around 1,000 whips have been planted so far on the pitch and putt course in the park.
The course is being reduced from 14 holes to nine, removing the poorer quality holes and harder to mow areas.
More tree-planting is due to take place over the next few weeks, with a total of 7,000 new trees planned for Council land within or adjacent to Aireville Park.
A further 2,000 trees are due to be planted on Council grazing land off Shortbank Road, in March.
These will be made up of native trees including oak, Scots pine, wild cherry and hawthorn.
Councillor Carl Lis, Craven District Council's lead member for Greener Craven, said: "These tree-planting schemes will provide benefits in biodiversity, connecting woodlands, improving air quality and flood alleviation.
"This is part of our climate change strategy, following our declaration of a climate emergency last year. This is one of our key priorities for 2020 onwards as we work towards carbon neutrality by 2030.
"We know there has been concern about plastic tree-guards for newly planted trees. We have tried to cut down on single-use plastic as much as possible but the efficacy of biodegradable tree guards available at the moment is debatable. Around 40 per cent of the trees we plant will be protected with plastic; we are using rabbit fencing where possible to reduce plastic and are also speaking to other organisations to reuse their plastic tree guards."
Councillor Andy Solloway, who took part in the tree-planting event, said: "Not only did I really enjoy being a small part of the tree planting, but I welcome and plan to be directly involved in the other tree planting projects in Skipton and even beyond.
"Not only do these trees go towards offsetting carbon, they also help retain groundwater which helps in alleviating flooding, something which has affected Craven very recently."
The tree-planting scheme has been funded by DEFRA's Northern Forest fund with approximately £40,000 to fund stock proof fencing, rabbit proof fencing, stakes, guards, the 9,000 trees and the contractors.