Skipton Town Hall set to re-open in winter 2020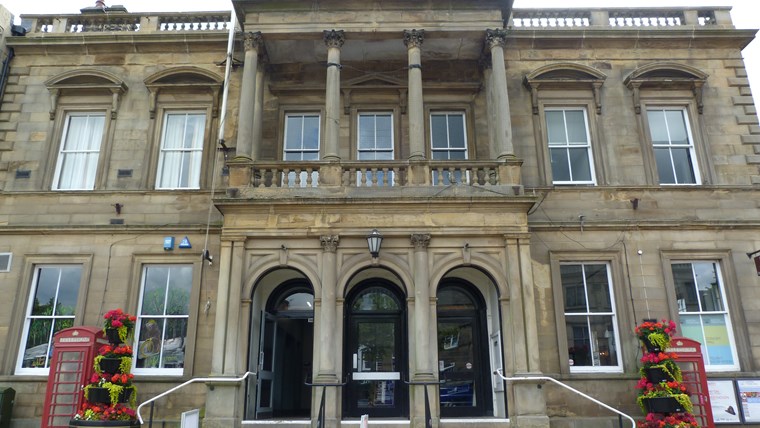 When completed, the ambitious £4.5 million project will deliver a restored and upgraded Concert Hall, a completely redesigned Craven Museum, and a new gallery space.
A new extension at the back of the Town Hall will house a dedicated education space, museum store and research facility, plus flexible use dressing rooms and toilets, including an accessible Changing Place Toilet. Two accessible lifts are being installed to the front of the new museum and within the rear extension.
Danielle Daglan, Cultural Services Manager at Craven District Council, said: "Working with historic buildings is challenging because unexpected findings are routinely made once you begin to open them up; unfortunately, Skipton Town Hall has been no different!
"Despite careful preparation by the project team, including geotechnical investigations and extensive fabric surveys, we have faced significant challenges which have required extra work.
"These remedial works have been complex and lengthy, and unfortunately delayed the construction of foundations for the new extension, a critical starting point for the rest of the project. This obviously has a knock-on effect to the overall completion.
"These delays have not added to the overall cost of the project and we thank the public for their patience as we carry out this exciting development. It will be well worth the wait when Skipton Town Hall is transformed into a fantastic cultural hub and a creative community space for the whole district.
"We are now aiming to re-open by winter 2020 – provided that we don't discover any further unexpected issues."
Councillor Simon Myers, lead member for Enterprising Craven, said: "We're all eager to see this brilliant redevelopment completed, but construction projects involving older buildings are always complicated. Our team is working hard to ensure that Skipton Town Hall reopens as soon as possible – and I'm sure when it does, residents and visitors will be delighted with the results of the redevelopment."
When the existing extension at the back of the building was demolished, an unconventional structural arrangement was discovered at the gable wall of the Concert Hall. The stone outer leaf had been removed up to eaves level and the top section was resting on steel beams which were unsatisfactorily supported.
This meant new support piers had to be erected, and new foundations constructed to build onto. A structurally unstable masonry flue was also discovered, which had to be carefully removed, involving extensive temporary support.
Contractors also discovered variations in the load-bearing capacity of different parts of the building, which meant further excavation and underpinning had to take place before the new extension could be constructed.
The National Lottery Heritage Fund gave a grant of £1.5 million to Craven District Council, which is part-funding the ambitious redevelopment plans.
The project is also being funded with £943,800 of match-funding and capital funding of £532,390 from Craven District Council. The remaining £1.6m is being underwritten by Craven District Council with funding applications pending. 
During the majority of the period of closure, the Hub space in the Town Hall has remained open and available for community hire, but will close from May onward to allow for refurbishment works in this area. Wildwood restaurant and Skipton Town Council also remain open within the building throughout the build.
The Town Hall arts team is touring a number of events around the district during the closure, and Craven Museum staff are taking Museum artefacts and workshops out to schools and holding free drop-in sessions around Craven.
For more information about On Tour events being provided by Skipton Town Hall go to www.cravendc.gov.uk/skipton-town-hall