Businesses speak out in support of the East & West model of local government reorganisation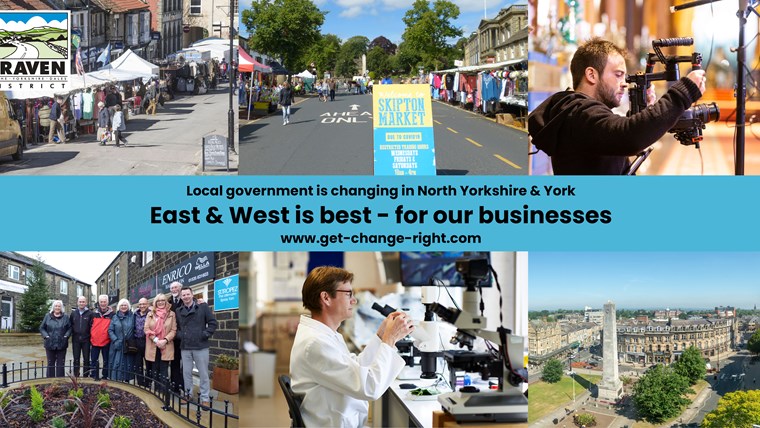 Businesses from across North Yorkshire are voicing their support for the East & West model of local government, which is being proposed by six district and borough councils.
The Government has told councils it will launch a consultation in February, on proposals to reorganise local government in North Yorkshire and York.
Council leaders from Craven, Harrogate, Richmondshire, Ryedale, Scarborough and Selby have submitted a full business case to Government, proposing an East & West model as the best option.
The model would see Craven, Harrogate, Richmondshire and Hambleton join together to form a unitary council in the West, with a population of 363,000, and Selby, City of York, Ryedale and Scarborough join together to form a unitary council in the East, with a population of 465,000.
North Yorkshire County Council has submitted a different proposal, which would form a 'mega-council' across the whole of North Yorkshire, with a population of 618,000, leaving York as a separate, small unitary authority with just 211,000 residents.
More than 100 businesses from all across North Yorkshire have written letters of support for the East & West model. The model has also received extensive pledges of support from individual members of the public and voluntary and charity groups.
Roger Tempest, Custodian of the Broughton Hall Estate near Skipton, which houses a business park with more than 50 companies employing more than 700 people, said: "The East & West proposal gives local businesses a strong voice in a smaller geographical area, rather than creating a vast unitary authority covering the whole of North Yorkshire.
"Local authorities need to be close to their local businesses to offer tailored support, particularly as we face the huge challenges of recovering from the Covid-19 pandemic."
Kevin Towers, MCEO of Techbuyer, a global leader in the provision of data based in Harrogate, said: "We are a high growth employer, planning to add another 100 jobs in the next three years. We believe the East & West model will offer many advantages to local communities and the business sector.
"It will enable more place-based local government and joined-up thinking on planning, transport and development that will help promote and support sustainable growth. Our experience of developing new business units in a number of different countries suggests that this is the best route to success."
Mark Dawe at the Skills Network, one of the largest employers in the Selby district and a significant high-tech business, said: "The East & West model will deliver devolution to the region, act as a catalyst for growth and unlock the true potential of the city of York, while keeping local government 'local' and protecting the important links we have with businesses big and small."
Alan Cutler, Deputy Managing Director of The PEEL Entertainment Group, based in Skipton, said: "Two equally balanced unitary authorities in the East and West will help maintain close connections between local government and businesses.
"Looking further forward to devolution, the East & West model would create a balanced Combined Authority, which will be more effective in delivering levelling-up and clean growth, attracting and retaining a younger workforce and expanding our strong skills base."
The East & West proposal creates two unitary councils with balanced populations, demography and economic power; a model that delivers a number of benefits for businesses: 
Councils that are close enough to local businesses to deliver the investment, solutions and support that they need – critical in the Covid-19 recovery period
Councils that understand the places where people live and work, and can put what matters to those places at the heart of future growth
Fair and balanced economies in a Combined Authority, delivering the aims of devolution
Inclusive growth opportunities along existing economic footprints
Investment and levelling-up of the area's economy
Councillor Richard Foster, Leader of Craven District Council, speaking on behalf of the Council Leaders, said: "Our East & West model will help drive recovery from the Covid-19 pandemic and build a better economic future for the whole area. It is the only proposal that delivers two equal partners to sit within a Mayoral Combined Authority – which is important for the success of devolution.
"District and borough councils already have a strong track record in bringing forward major economic development schemes for the benefit of our communities. Over the last five years, there has been nearly £900 million worth of investment projects delivered in the area.
"We know many of our businesses are concerned about the alternative bid for a 'mega-council' from North Yorkshire County Council, sitting alongside the much smaller existing unitary City of York Council, and would prefer the East & West model so that the full potential of devolution can be maximised. We hope their views will be taken into account when the Government launches its consultation."
The district and borough council leaders are: Cllr Richard Foster (Craven), Cllr Richard Cooper (Harrogate), Cllr Angie Dale (Richmondshire), Cllr Keane Duncan (Ryedale), Cllr Steve Siddons (Scarborough) and Cllr Mark Crane (Selby).