Craven Community Champions Awards 2017 – the winners!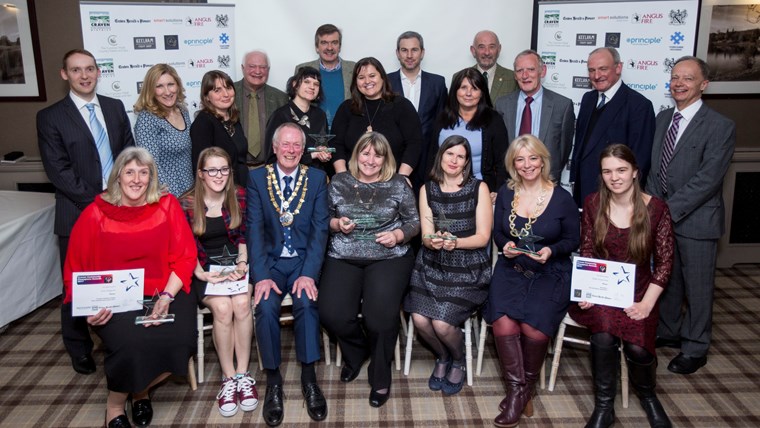 The winners of the sixth annual Craven Community Champions Awards were announced at a glittering ceremony at Coniston Hotel on Thursday. (JAN 11)
The event, run by Craven District Council and the Craven Herald, celebrated the achievements of the amazing people who help make Craven's communities stronger.
Katie Peacock, of Exclusively Inclusive, was named as Health & Wellbeing Award winner and Citizen of the Year for her huge commitment to making a difference to the lives of many isolated people.
The friendship group offers a safe and inclusive space to all, regardless of disability, where people can make a positive difference to their lives and the lives of others, so improving their mental health and wellbeing.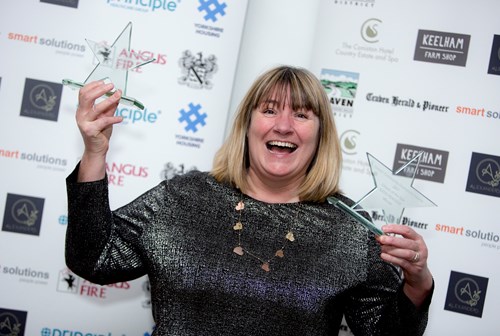 Katie said: "I'm absolutely overwhelmed and delighted that our community-building has been recognised. I hope it inspires other people to have a go and just do what they can in the community. Everyone coming together is what makes it happen."
The Citizen of the Year Award was sponsored by Yorkshire Housing. The runners-up in the Health & Wellbeing Award, which was sponsored by the Broughton Hall Estate, were Dyneley House Surgery, and Hayley Kitching and the Principle Trust.
The Volunteer of the Year award, sponsored by Angus Fire, was won by Fiona Protheroe, who volunteers for a range of projects in Craven including FairTrade, Friends of Aireville Park, Craven Refugee Support, the Refugee Council and St Stephen's Cubs.
She has been instrumental in making refugee families in Craven feel as welcome as possible and educating the Craven community about what it means to be a refugee.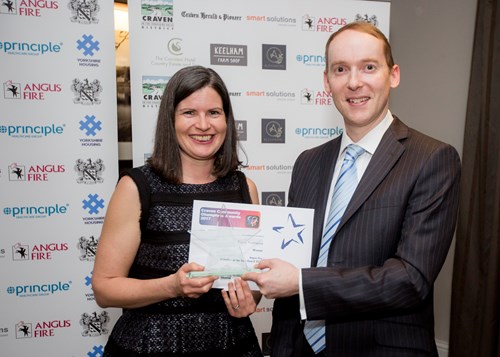 Fiona said: "I'm thrilled and really honoured to receive this award, especially given just how many people volunteer in Craven and do such wonderful things. I'm just one person and there are many, many more people in Craven who do so much. I'm lucky to work with some really, really lovely people."
The Young Citizen of the Year award, sponsored by the Coniston Hotel, was won by Catherine Sawyer, a teenager who volunteers for Settle Stories. She helped secure an HLF grant of nearly £50,000 to create a heritage project for young people, called Tom Twisleton 100, helped run the project and inspired other young people to participate.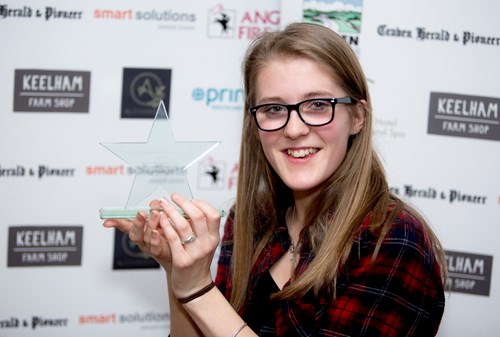 Catherine said: "I'm shocked – I didn't think I would win the award. I'm definitely going to carry on with Settle Stories and I would encourage other people to join in because it's fun."
Oliver Webster, who volunteers with Exclusively Inclusive, and Katie Hoggarth, who volunteers with Skipton Juniors' Girls Football team, were runners-up in the Young Citizen of the Year Award.
Settle Victoria Hall, the oldest continually operating music hall in the world, won the Arts and Culture Award, sponsored by Alexander's.
The hall has managed to survive and develop in a difficult economic climate to provide a cultural hub for the town, with more than 150 ticketed events drawing in over 10,000 people last year.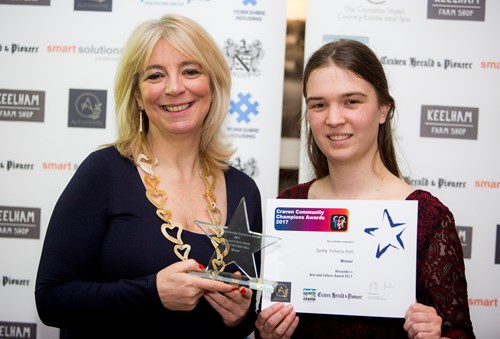 Ann Harding, hall manager, said: "I'm thrilled and delighted to receive this award. It's a tribute to the hard work of all our volunteers and supporters and it's fabulous for their work to be recognised. We hope people continue to come along and enjoy what we do at Settle Victoria Hall."
Runners-up were Skipton Puppet Festival and Selfa Girls Rock.
Langcliffe Community Garden won the Greener Craven Award, sponsored by Smart Solutions. The group formed after the closure of the village allotments, inspired residents to buy a plot of land and created a beautiful space which includes small growing plots, fruit trees and bushes, benches, a meadow and a small area for events and social gatherings, for all the community to enjoy.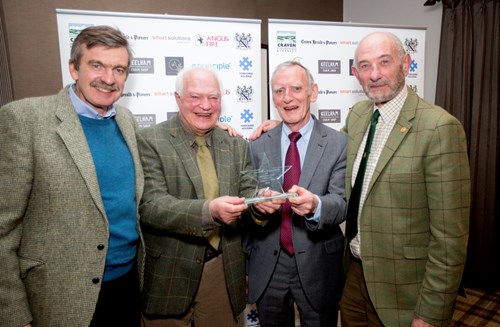 David Croll, of Langcliffe Community Garden, said: "We're delighted to receive this award. It's been a community effort – so many people in Langcliffe have been involved. It's grown out of the closure of the allotments, so something good has come out of something bad –that has given people hope."
Friends of Aireville Park were runners up in the Greener Craven Award.
Anita Hoggarth, who coaches the Skipton Juniors U12 Girls Football team, won the Sport and Recreation Award, sponsored by Principle Healthcare.
Anita set up the first Skipton Girls team, is Club Mentor for the U11 teams who have young leaders, and is in charge of the club's fundraising. She has also coached local children of all abilities at Greatwood School in football for over 10 years, mainly in her own time.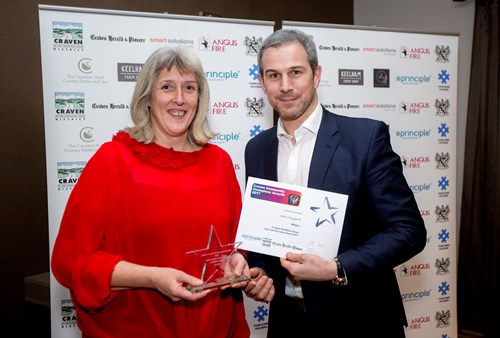 She said: "I'm so pleased – I feel so honoured to have been nominated by Skipton Girls. I'm delighted how girls' football has developed in Skipton and long may it continue!"
Craven Gymnastics Club and Tracey Solley, of Sutton Juniors Cricket Team, were the runners-up in the Sport and Recreation category.
Best Community Group was won by Friends of Aireville Park, a collective of local people who have come together to drive forward improvements and investment in their local park in Skipton. Sponsor Keelham Farm Shop also donated two months' worth of their carrier bag charge to the winning group.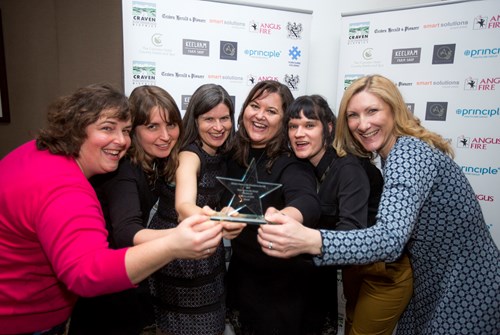 Shaz Jefferies, of Friends of Aireville Park, said: "We're absolutely thrilled to have won the Best Community Group award. The carrier bag charge from Keelham is the cherry on the cake!"
Scoff Café and Looking Well Written were the runners-up in the Best Community Group category. 
The judging panel was made up of Councillor Stephen Place, chairman of Craven District Council, Julian Smith MP, Damian Holmes, former editor of the Craven Herald, Councillor Linda Brockbank, Lead Member for Resilient Communities, Robert Bellfield, Principal of Craven College, and Mark Hopley, of Community First Yorkshire.
Councillor Place said: "This was a fantastic evening and it was wonderful to hear about the incredible work that goes on in our communities. As we know, Craven is renowned for being the happiest place in the UK and it is people like this who help make it so. Volunteers across the district are working day in and day out to improve the lives of residents in their communities.
"We would have liked to have given out many more awards – all the groups and individuals who were shortlisted deserve recognition for their commitment and hard work.
"Many thanks also to our sponsors for their continued generous support – they make the Craven Community Champions Awards possible."