£2m project to improve Craven canal towpath gets green light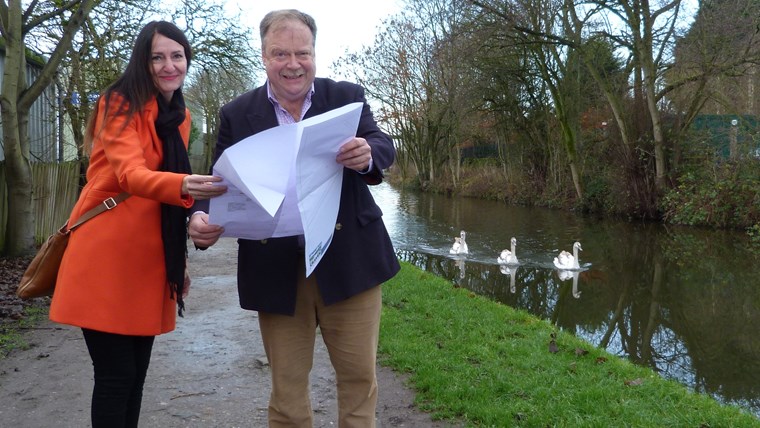 A £2 million project to transform the Leeds & Liverpool Canal towpath between Skipton and Gargrave, and Bradley to Kildwick, has been given the go-ahead.
Following a bid from Canal & River Trust, the charity that cares for the canal, with support from Craven District Council, funding of £1.46m from the Rural Development Programme for England (RDPE) via the Rural Payments Agency has been awarded to improve 11km of towpath.
In addition, Craven District Council has allocated up to £365,000 towards the scheme, including £225,000 from its New Homes Bonus receipts and £140,000 from the York, North Yorkshire and East Riding Local Enterprise Partnership, whilst the Canal & River Trust charity has allocated £136,000 from its budget.
The project has been developed from the long-term Access Development Plan commissioned by Craven District Council and written by Sustrans. The plan identifies a phased approach to improving accessibility along the Leeds & Liverpool Canal; providing a safer walking and cycling access into the Yorkshire Dales and making connections into neighbouring towns and villages.
This latest scheme will highlight the canal as a year-round gateway to the Yorkshire Dales, making it more accessible for local residents and enhancing the waterway as a visitor destination for walkers, cyclists, boaters and canoeists. Work is due to commence in 2019.
The announcement of this scheme builds on the 2016 Department for Transport-funded £450,000 scheme to improve the towpath between Skipton and Bradley.
Councillor Simon Myers, Craven District Council's lead member for Enterprising Craven, said: "I'm delighted that this funding has been secured –we know residents are keen to see these improvements take place so they can make the most of their local canal towpath.
"This project will be a huge benefit to our local communities and will also allow more visitors and businesses to make the most of the historic Leeds & Liverpool Canal. It will create a family-friendly route that balances the needs of modern day visitors against the 200-year heritage of the canal.
"Together with improvements proposed to take place around the canal in the centre of Skipton, and the work already carried out on the stretch of towpath between Skipton and Bradley, this will make the area even more attractive, transforming the canal as a gateway to the Yorkshire Dales."
Sean McGinley, regional director Yorkshire and North East at Canal & River Trust, added: "Our research reveals that spending time by water can give people a real boost, improving their physical health and mental wellbeing, so we're delighted that this comprehensive improvement scheme has been funded and approved.
"Once complete, it will ensure locals and visitors can enjoy their local canal towpath throughout the year, whether that's on the early morning dog walks, taking the kids for a weekend stroll, or cycling to work."
As part of its contribution the District Council will fund a marketing programme to work with local businesses on how they can benefit from the scheme, and also work with regional tourism agencies to promote the canal and area to new visitors.
Find out more about your local canal and how you can help support it by volunteering or donating at www.canalrivertrust.org.uk.