New Aireville Park children's play area is now open!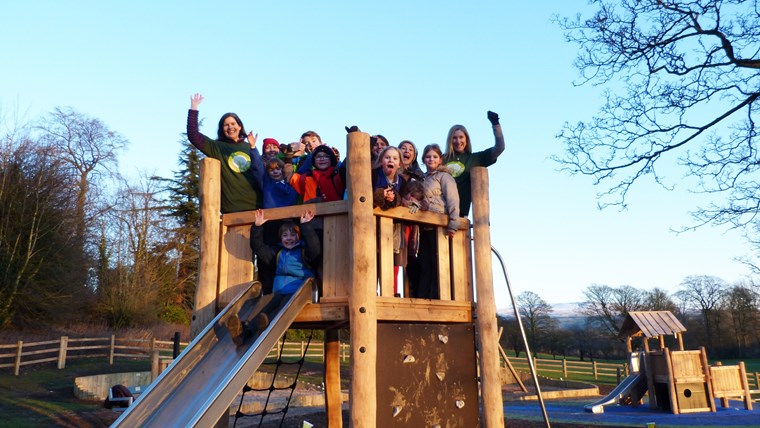 A new children's playground in Aireville Park is now open – with an exciting range of play equipment including climbing frames, slides, swings, tunnels, a spinning swing, a den-building area, a sand-pit, and musical instruments.
Craven District Council and the Friends of Aireville Park raised over £160,000 to pay for Phase One of the play area, with generous grants and donations from a range of organisations, businesses and individuals.
Two sections of the playground are still fenced off, awaiting Phase Two, which should be completed later this spring.
Fiona Protheroe, chairperson of Friends of Aireville Park, said: "We're absolutely delighted to see the playground open – we've been working towards this for so long and it looks fantastic.
"We're very grateful to all those who have supported and sponsored our fundraising campaign and it's brilliant to see so many children and families enjoying the new equipment already."
Councillor Linda Brockbank, Craven District Council's lead member for Resilient Communities, said: "I'm thrilled to see the new playground is open – we've been working hard with Friends of Aireville Park to get the funding in place and this just goes to show what communities can achieve when they pull together.
"We know there has been a need for a new playground in Aireville Park and this will really add to the attraction for families. Together with the skate park, pump track and zip wire and Craven Leisure, Aireville Park is a wonderful place for families to visit."
Visitors to the playground are advised that the jungle bridge and cargo nets are currently fenced off and need to stay closed for a little longer until the grass turf has taken.
The playground will be quite muddy for the next two months until Phase Two is finished and the bare soil is seeded and turfed. Visitors are advised to wear wellies and outdoor clothes, to keep to the paths and hard standing areas and keep off the bare soil. It is also advisable to take some wipes for cleaning seats on the equipment. There will be a full spring-clean of the equipment when Phase Two is completed.
The council has contributed capital funding of £15,810 to the project, along with £52,791 of planning gain.
A zip wire had already been installed at the top end of the park, paid for with £12,000 from Tesco Bags of Help. The Tesco scheme has also given another £4,000 grant to provide a wooden tractor in the play area.
Yorventure gave a grant of £48,700 to the project, and generous grants have also been given by Craven Trust, The Coulthurst Trust, Tarn Moor Trust, Skipton BID, Grandmaster, Skipton Mechanics' Institute, the Police and Crime Commissioner Fund, and local councillors Chris Harbron, Andy Solloway and John Dawson via their Ward Member Grant.
Leeds Building Society Community Reward Scheme gave £6577.75 to pay for the spinning swing – known as the Titan swing.
Walk For Jodie, set up in memory of Jodie Willsher, has raised almost £5,000, which has paid for the playground sandpit and a bench. 
Several local businesses and members of the community have also been sponsoring or making donations towards the new play area, including local companies Holt Doctors Ltd, J N Bentley, Mewies Solicitors, Peter Watson Ltd and Skipton Self Drive Hire, Keelham Farm Shop, RKB Electrical Ltd, and Walker Foster Solicitors.
Skipton Craven Rotary Club have donated £813 and Skipton Rotary Club also raised £1,200 from a bike auction.
Skipton Ukulele Club have also been fundraising for the Friends of Aireville Park and have raised more than £1,000 for the scheme.
Businesses and residents can still sponsor or donate a tree for a loved one, or sponsor a piece of play equipment.
Businesses can also choose to have a plaque or memorial tree charm and business logos on the sponsors' board as a permanent recognition of the support. 
Full details are on the Council's dedicated webpage for the park playground project: http://www.cravendc.gov.uk/airevilleparkplay and on the Friends of Aireville Park website https://friendsofairevillepark.wordpress.com 
Please contact bdinsmore@cravendc.gov.uk to enquire about either donating or sponsoring the scheme.