Flood management works begin in Aireville Park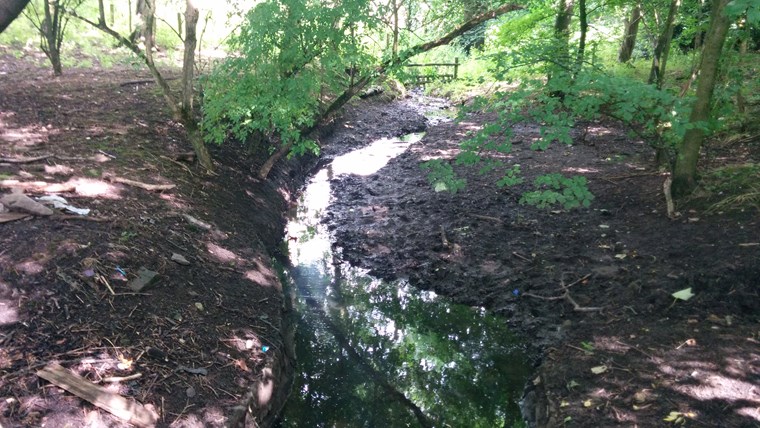 A project being led by Craven District Council to reduce the risk of flooding by improving the flow of water along Gallow Syke in Aireville Park, has got underway.
Gallow Syke, a tributary of Ings Beck, originates to the north of Skipton and flows through a series of culverts, which are in need of repair to allow them to be safely managed in flood conditions.
Gallow Syke and Ings Beck contribute to the flood risk of Skipton, specifically along the Ings Lane Industrial Estate.
The work, designed by the engineering consultancy 'WSP' and being constructed by contractors Galliford Try on behalf of Craven District Council, will rebuild the culvert entrances so water can be stored temporarily during flood events, delaying its release and reducing the impact on the industrial areas around Engine Shed Lane and Ings Lane.
There are two main areas of work – one next to the Craven Leisure access road, and another next to the Leeds Liverpool Canal. Key organisations in the area have been consulted on the programme of works, which is due to be completed by the end of June 2021.
Work has started to create an access track to the two areas of land. A programme of woodland management will include tree planting as well as encouraging greater understory vegetation to grow, increasing the diversity in the age of the trees and allowing light into the watercourse.
Councillor Simon Myers, Craven District Council's lead member for Enterprising Craven, said: "This work will not cause any major disruption for users of Aireville Park, but they may be curious about why it is taking place. The project is an important part of the delivery of the £5 million Skipton Employment and Housing Growth scheme, funded by the Government's Local Growth Fund, awarded by the York & North Yorkshire Local Enterprise Partnership (Y&NY LEP).
"When completed, it will reduce the risk of flooding for homes and businesses in the west of Skipton, and will also contribute to the wider scheme, planned to improve vehicle connectivity around Engine Shed Lane, Ings Lane and Wyvern Park.
"We have consulted with key organisations in the area so they are aware of the works that are being carried out, and they know they can contact the contractors if they have any issues during the progression of the scheme."

David Dickson, Chair of the York & North Yorkshire Local Enterprise Partnership Infrastructure & Joint Assets Board, said: "Flood resilience is vital and plays a big part in enabling economic growth. We're pleased to see this stage of the project getting underway."
For more information on the scheme visit www.cravendc.gov.uk/business/employment-and-housing-growth-in-skipton/