You are here:
Armed Forces Week ends with the lowering of the Flag
Armed Forces Week ends with the lowering of the Flag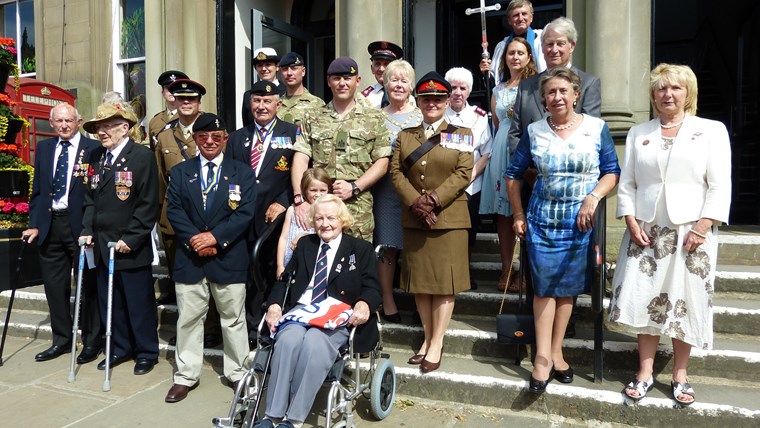 The Armed Forces Flag was lowered in front of crowds at Skipton Town Hall on Sunday July 1 to mark the end of Armed Forces Week.
Veterans from the Royal British Legion gathered for the ceremony in Skipton High Street, hosted by Craven District Council chairman Councillor Wendy Hull.
She said: "Armed Forces Day is the chance for us all to show our support to the men and women who make up our Armed Forces Community: from currently serving troops to Service families, veteran and cadets. It is worth remembering that the Armed Forces defend the UK and its interests working around the world.
"We have been flying the Armed Forces Flag in Skipton all week and I would like to thank Veronica James and Holy Trinity Church for stepping in to fly the flag when unfortunately the rope on our own flag pole snapped!
"I would also like to formally thank the 5th Regiment Royal Artillery for providing a troop to parade through Skipton to mark the raising of the flag at the beginning of the week. It was a great spectacle and many people stopped to watch as a result."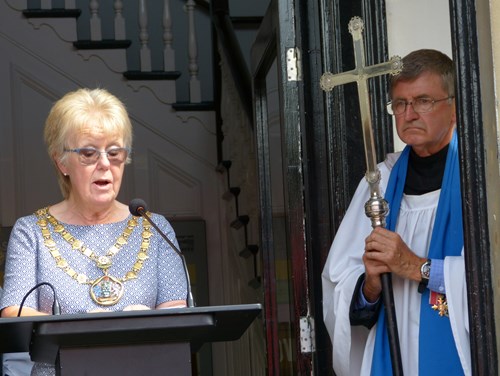 The Reverend Veronica James, Rector of Holy Trinity Church, led a short service and the flag was lowered at 4pm from Skipton Town Hall, the flag pole having been mended during the week.
The flag was presented by Lt. Col. Sam Shepherd to Mrs Shirley Haigh, the first woman to receive the flag in Skipton.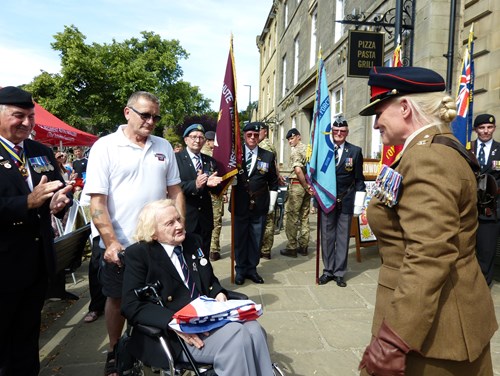 Mrs Haigh joined the Wrens in 1949 and served for two years; her unit was on stand-by during the Korean War, and she served in the Royal Naval Hospital Chatham and the Royal Naval Hospital Haslar.
The Armed Forces Week events were organised by Craven District Council, Skipton Town Council and the Royal British Legion Skipton Branch.