Yorkshire Housing Skipton Cycle Races dazzle crowds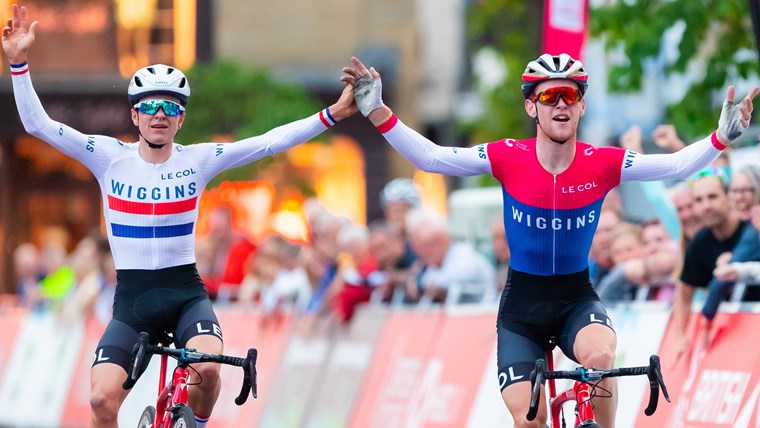 Hundreds of people turned out to watch an exciting, world-class cycling race in Skipton on Wednesday night – despite the World Cup semi-final.
Children and juniors enjoyed the chance to compete on the same course as their heroes before the elite cyclists took centre stage at the Yorkshire Housing Skipton Cycle Races.
Although the crowds were down on previous years due to the England football match, the top-class cyclists were still well supported in the HSBC UK National Circuit Series race as they sped round the 1km lap of Skipton town centre for an hour.
Football fans emerged briefly from the pubs to cheer on the elite riders at half-time, before returning inside to watch England's fate.
It was two teenage riders from Team Wiggins who emerged victorious, with Rob Scott crossing the line first, almost in tandem with team-mate Tom Pidcock. Last year's series winner JLT Condor's Matthew Gibson finished third to keep himself top of this year's series rankings.
Sharon Hudson, Communications and Partnerships Manager at Craven District Council, which organised the event, said: "We're pleased that so many people came along to enjoy this thrilling race – although clearly many were otherwise engaged, cheering on England.
"This is always a great event for the town and benefits Skipton's night-time economy – although on this occasion many pubs were busy for a different reason!
"However those who did come along to the races were treated to a fantastic display of world-class cycling in Skipton. The children's and junior races were also really well supported and it was fantastic to see them having such a great time.
"Many thanks to all those who helped make this race such a success, particularly co-funders Skipton BID, support from Skipton Town Council, and sponsors Yorkshire Housing , Dale Eddison Estate Agents, Howden's Joinery, and Skipton Market.
"Thanks also to all the volunteers who helped out on the night and ensured everything ran smoothly."
The event began with the under-9s and under-12s races, which saw boys and girls racing up and down Skipton High Street. The under-8s girls race was won by Felicity Williamson, with Jessica Hudson second and Katie Hood third. In the under-8s boys race, Flynn Howe came first, Axel Dinshaw second and James Walton-Brown third.
The under-12 girls race was won by Ayesha Vose, with Hannah Storey second and Lena Parys third, while Bryn Lawrence won the boys race, followed by Archie Gill in second and Maddox Howe third.
Then it was the juniors' turn, with under-14s and under-16s racing the full 1km circuit. The under 14s girls race was won by Matilda McKibben with Morgan Leeming-Sykes second, while the boys race was won by Riley Blackmore with Jamie Brown second and Sam Hollis third.
In the under-16s event, the girls race was won by the 2017 champion Ava Oxley-Szilagyi, with Madelaine Leech second and Tilly Percy third, while the boys race was won by James Wordsworth, with Joshua Clough second and Joseph Pidcock third.
The elite race will be televised on Eurosport 1 on Sunday, July 15, at 6.30pm.
Picture courtesy of swpix.com 
For more pics of the children's races please see our Facebook page: www.facebook.com/cravencouncil