You are here:
Craven District Council's Skipton Visitor Information Centre reopens
Craven District Council's Skipton Visitor Information Centre reopens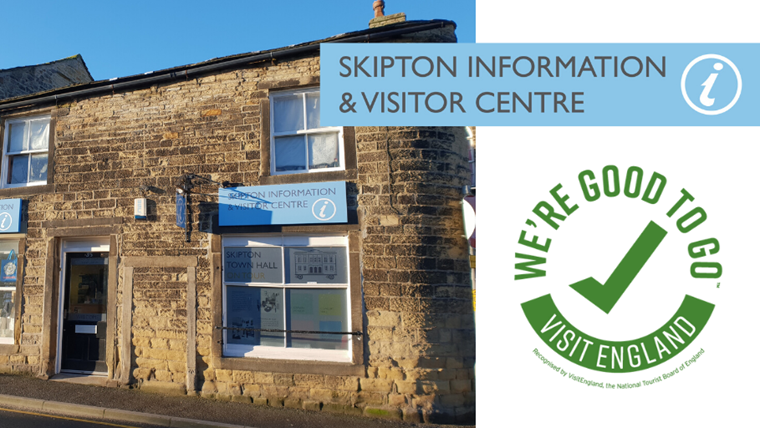 Craven District Council is reopening the Skipton Visitor Information Centre in Coach Street from Wednesday July 8.
The Centre will be open from 9.30am to 4pm on Wednesdays, Fridays and Saturdays only during July, to coincide with market days in the town.
In August the Centre is expected to be open from 9.30am to 4pm, Mondays to Saturdays.
A telephone service is still operating from Monday to Saturday, 9.30am to 4pm, on 01756 792809.
Danielle Daglan, Cultural Services Manager at Craven District Council, said: "Our team have been working hard to welcome visitors back safely and are looking forward to opening up the centre again.
"We would ask that only one person, couple or family should be in the information centre at any one time. Please read the signage on arrival and follow the instructions. We are encouraging contactless payments where possible.
"We're glad to be back providing a service for all those who want to know what's happening in the Craven District, along with a great range of maps, books, souvenirs and gifts."
The Council's Customer Services Reception at Belle Vue Square, Broughton Road, Skipton, is now open from 9am to 1pm, Monday to Friday, with a one-way system in operation and a maximum of three people allowed within the reception area at any one time.
The Licensing Team is holding drop-in appointments on Wednesday and Friday mornings, while the Revenues and Benefits team are seeing customers on an appointment-only basis, and Housing Options are holding essential appointments only.
An on-duty planning officer service is available strictly by appointment only on Mondays, Wednesdays and Fridays between 9.30am and 12.30pm – call 01756 706470 to make an appointment.
ENDS
Editors Notes:
For further information contact Craven District Council – Jenny Cornish: 01756 706 315