Armed Forces Week begins in Skipton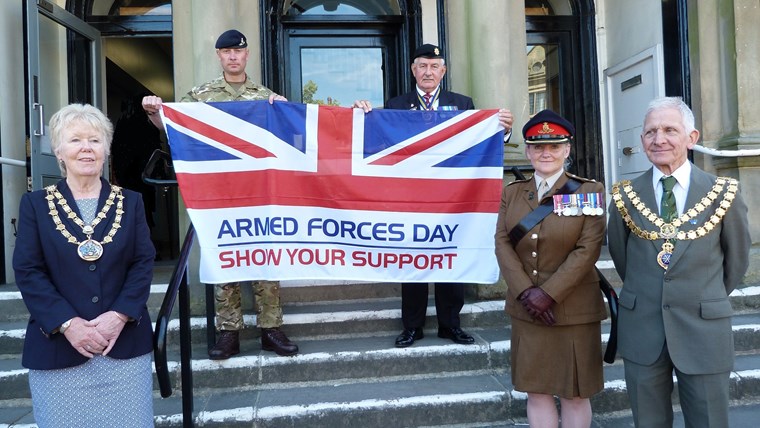 The Armed Forces Flag was raised at Skipton Town Hall on Monday June 25, to mark the start of Armed Forces Week.
The 5th Regiment Royal Artillery – the Yorkshire Gunners – paraded through Skipton High Street and the flag was then unfurled at 11am in front of veterans from the Royal British Legion.
A ceremony was hosted by Craven District Council chairman, Councillor Wendy Hull, and attended by the Mayor of Skipton, Councillor Alan Hickman, veterans from the Royal British Legion, and the Revd Veronica James, Rector of Holy Trinity Church, who blessed the flag.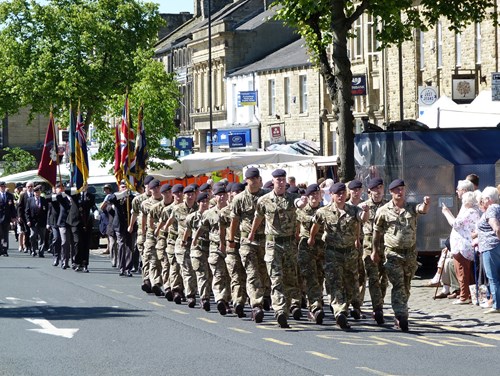 The flag was then raised at Holy Trinity Church in Skipton, as the flag rope at Skipton Town Hall had snapped during an earlier practice run.
Councillor Wendy Hull said: "It was wonderful to have the Yorkshire Gunners parading in the town to mark the raising of the flag for the beginning of Armed Forces Week.
"It was very pleasing to see so many people turn out in Skipton to honour those who have served their country."
The Armed Forces Week will conclude on Sunday July 1st, coinciding with Sheep Day in Skipton.
The flag will be lowered at 4pm and will be presented to Mrs Shirley Haigh, the first woman to receive the flag in Skipton.
Mrs Haigh joined the Wrens in 1949 and served for two years; her unit was on stand-by during the Korean War, and she served in the Royal Naval Hospital Chatham and the Royal Naval Hospital Haslar.
The Armed Forces Week events are being organised by Craven District Council, Skipton Town Council and the Royal British Legion Skipton Branch.