You are here:
Explore the Roebuck Collection in new exhibition at Skipton Town Hall
Explore the Roebuck Collection in new exhibition at Skipton Town Hall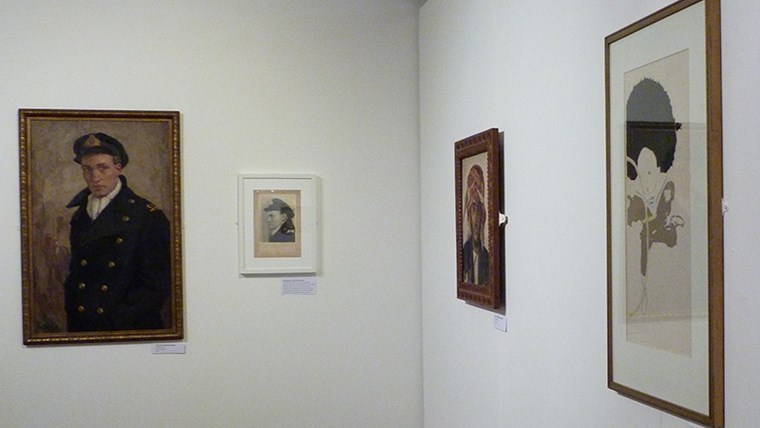 A fascinating display of Craven's Roebuck Collection has been opened in the Exhibition Gallery at Skipton Town Hall.
Clement Roebuck created a huge private collection of art that he displayed and admired in his home near Bolton Abbey up until his death.
When he died 30 years ago his personal art collection was bequeathed to the town of Skipton to be displayed.
With 145 pieces in the collection, a selection is always on display at Craven Museum but many more pieces can now be seen in the new, free exhibition.
The collection represents a range of periods, artistic styles and works of both local interest and national importance, including paintings by notable twentieth century British artists such as Stanley Spencer, Walter Sickert and John Piper.
Danielle Daglan, Programming & Venue Development Manager at Craven District Council, said: "This new exhibition celebrates Roebuck's passion for the arts and his instinctive approach to collecting which formed this unique collection.
"The real charm of the collection is that Roebuck purchased works seemingly for pleasure - collecting art he admired rather than solely investments.
"There are some fascinating personal connections behind many of these paintings - this exhibition explores this and the true diversity of the collection that now has a home at Skipton Town Hall.
"We hope this exhibition serves to mark Roebuck's generosity that has made sure his collection ended up on public display and how lucky we are to have it here in Skipton Town Hall. We are really pleased to be able to share more of the collection - celebrating Clement Roebuck's life-long passion for collecting."
Roebuck was a frequent visitor to the Dales and surrounding area. He found a weekend base, renting Hilltop near Starbotton and later purchased Currer Hall near Bolton Abbey, where he lived until his death in 1988. Much of this affinity to the area can be seen in his collection, with many paintings depicting these local areas.
The Clement Roebuck Collection exhibition will run until July 5. The Exhibition Gallery is open Monday to Saturday, from 10am to 4pm. Entry is free.