Famous designer hosts 'This is the Place' event in Skipton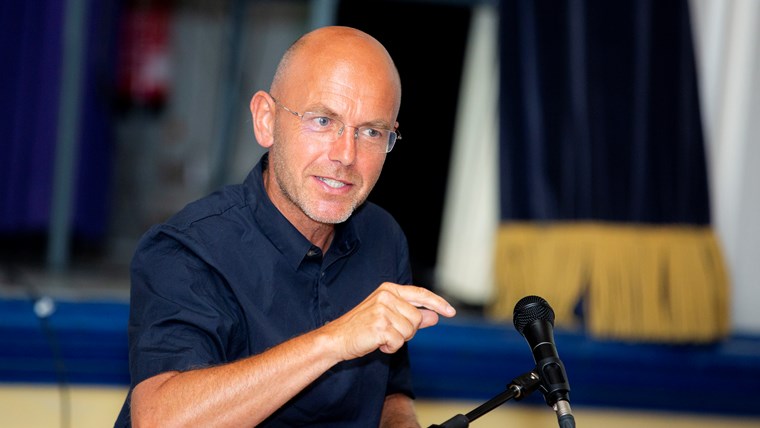 Inspirational English designer Wayne Hemingway was in Skipton on Tuesday (June 26) to get behind the Great Place: Lakes and Dales (GPLD) project – a major new initiative aimed at persuading younger people to stay or move to the area.
The co-founder of award winning multi-disciplinary designers HemingwayDesign, whose first brand was Red or Dead, hosted an interactive event at Skipton Town Hall, designed to get people involved in the future of the countryside corridor from Skipton to Grasmere.
Wayne said: "The area has an incredible 44% fewer 16 to 34 year olds than the national average so it's vital more is done to safeguard the future economy. The event, called 'This Is The Place' was designed to start setting up a 'placemaking' project, which will be at the heart of celebrating the cultural distinctiveness of the area and the reasons why younger people might aspire to put down roots here.
"We had a fantastic evening with a packed room of creatives, innovators and pioneers – all bursting with ideas of how culture and young people can be at the heart of planning and shaping the area's future."
Programme director Lindsey Hebden was delighted with the enthusiasm shown at the gathering.
She said: "Momentum is well underway to deliver an impactful, engaging and exciting cultural event of major regional and national significance next autumn. There were some fantastic ideas and interesting opinions put forward."
Councillor Richard Foster, Leader of Craven District Council, who took part in the evening, said: "This was an exciting and interesting event and it was good to see so many people come together in Skipton to discuss how we can attract and retain more young people to the Lakes and Dales. There were a lot of young people at this event and it was great to hear what they had to say. 
"We're very keen to hear the ideas of local people to get them involved in staging a major cultural event and persuade younger people to live and work in the area. We have some amazing success stories already and it was inspiring to hear some of their ambitions for the future. We look forward to working with our partners to move this project forward and make a real difference to the future of the Lakes and Dales."
GPLD is being funded by the Heritage Lottery Fund and Arts Council. It is being led by Craven District Council in partnership with South Lakeland District Council and the Yorkshire Dales and Lake District national park authorities.
As well as building on the cultural distinctiveness of the Lakes and Dales through a series of events, workshops and support for existing projects, GLPD is also looking at influencing local policy and planning to make the area more attractive for younger people to live and work.
Anyone interested in taking part in This is the Place, who couldn't make the events but still wishes to be involved, can contact GPLD on greatplace@cravendc.gov.uk