Armed Forces Week begins in Skipton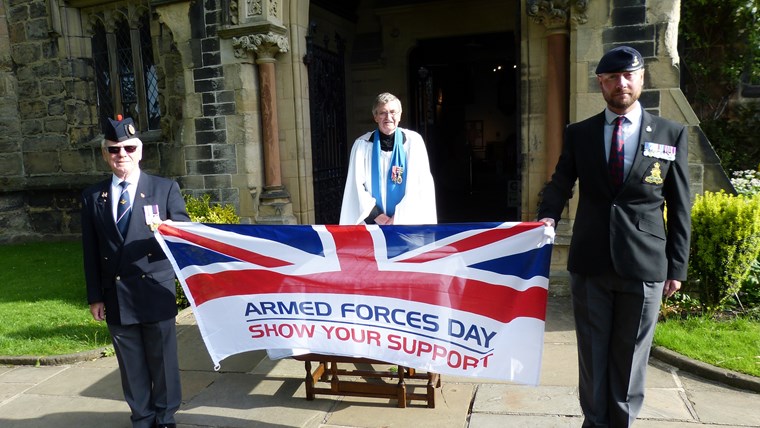 The Armed Forces Flag was raised at Holy Trinity Church in Skipton on Monday June 22, to mark the start of Armed Forces Week. 
The flag was raised in a small, socially distanced ceremony, organised by Craven District Council and the Royal British Legion early in the morning to avoid crowds gathering.
The event was filmed by Craven District Council so that members of the public could view the Flag raising safely.
The Rev Roger Lowans, of Holy Trinity Church, blessed the flag before it was raised in front of George Martin, Chairman of the Skipton Branch of the Royal British Legion, and fellow veteran Chris Thompson.
The Rev Lowans said: "We gather here today to honour our Armed Forces, past and present. We will also raise the flag for Armed Forces Day, which we fly over this town of Skipton with great pride, and it is with great pride that I take this service this morning.
"Our Armed Forces are a body of men and women who serve our Queen and our country; who serve the causes of peace and justice for all humanity; who serve as directed by their commanders and our political masters. It is an honourable thing to have served in the past, and to be serving today, in the Armed Forces of the Crown."
Councillor David Ireton, Craven District Council's Armed Forces Champion, said: "We are proud to fly the Armed Forces Flag in Skipton and honour our Armed Forces veterans past and present.
"Unfortunately the usual Armed Forces Week events have been cancelled this year, but we know residents will want to show their respect for our Armed Forces from their homes.
"I hope that next year we will be able to come together again to celebrate both Armed Forces Day and the 5th Regiment Royal Artillery Freedom Parade."
The video of the Armed Forces Flag Raising can be viewed on Craven District Council's YouTube channel:
The Flag has been raised at Holy Trinity Church as the flagpole at Skipton Town Hall is currently broken and has not been able to be repaired due to lockdown.
The Armed Forces Flag will be lowered in another small ceremony on the weekend of June 27.
Armed Forces Day takes place on the last Saturday each June and is a chance for people to show their support for the men and women who make up the Armed Forces community: from currently serving troops to Service families, veterans and cadets.
This year, as public events have been cancelled due to the coronavirus outbreak the public are encouraged to show their support from their homes.
The Armed Forces Day Event 2020 was due to be held in Scarborough; it will now be hosted online instead at www.scarborougharmedforcesday.co.uk
The website is live from Monday 22 June and the online content will shine a spotlight on local and national military veterans, and serving personnel, honouring their unstinting commitment, service and sacrifice.
Visitors to the website will be able to view military related videos and personal stories, enjoy images and personal recollections from previous Armed Forces Day events, take part in themed children's activities and a children's competition.