Share your memories of Skipton Town Hall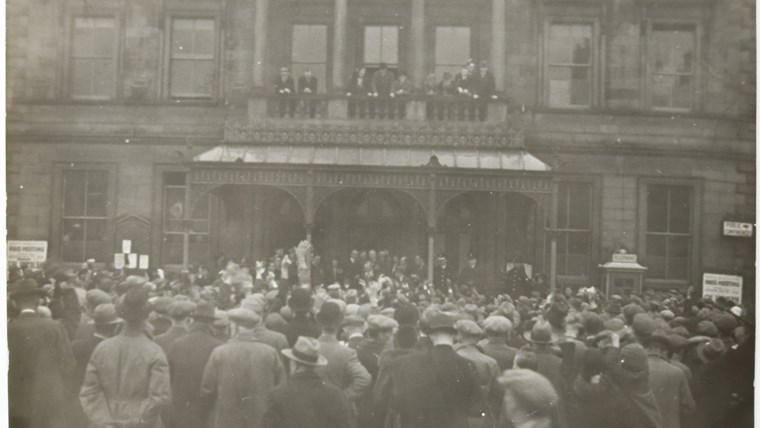 Skipton Town Hall has been a hub of community and cultural activity for more than 100 years, from royal weddings and national events to local theatre, music festivals and nativity plays.
Now Craven Museum is inviting residents and visitors to share their memories of the Town Hall as part of the Stories and Treasures of Street and Dale project.
The National Lottery Heritage Funded project is part of Craven District Council's £4.5 million redevelopment of Skipton Town Hall.
The Museum team is currently designing welcome and introductory signs for the entrance to the Town Hall, and would like to include stories from members of the public.  
Danielle Daglan, Cultural Services Manager at Craven District Council, said: "If you have any great memories of Skipton Town Hall, we'd love to hear from you.
"Do you have a story about visiting the Town Hall as a child? Maybe you were part of the crowds congregating outside during the 1953 coronation? Or perhaps you heard historic announcements from the balcony loudspeakers?
"If you have any old photographs or memories to share with us, please do get in touch."
Built on the site of the old vicarage for Holy Trinity Church in 1862 by Mr Jee of Liverpool, Skipton Town Hall has a long history. In 1876-8 it was transformed by the architects Lockwood and Mawson (builders of Salts Mill) who raised the ceiling and extended the public hall. In 1895 it was purchased by Skipton Urban District Council.
Since then it has been used for public events and civic duties. In the 1970s, Craven Museum moved from its previous home in Skipton Library into the new extension at the back of the building.
Send your memory to the Craven Museum team by email at museum@cravendc.gov.uk or by post to 1 Belle Vue Square, Broughton Road, Skipton, North Yorkshire, BD23 1BN. You can also share your story on the Town Hall's Facebook page at www.facebook.com/skiptontownhall or on Twitter at https://twitter.com/skiptontownhall
To find out more about the Stories and Treasures of Street and Dale project, go to the Museum's blog at https://storiesandtreasures.wordpress.com/