Armed Forces Week is marked in Skipton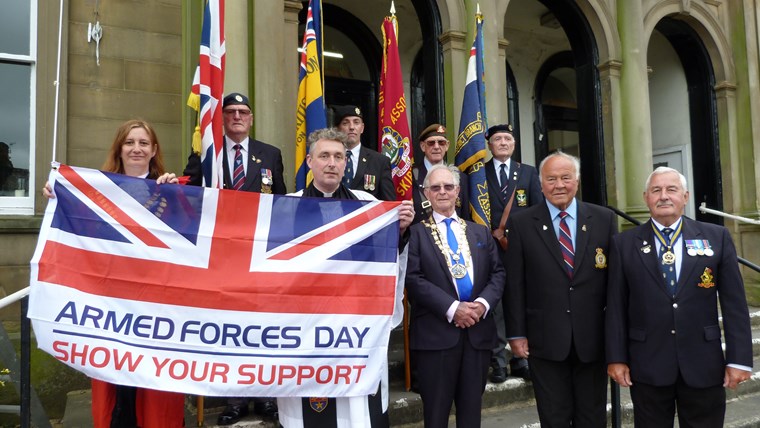 The Armed Forces Flag has been raised at Skipton Town Hall to mark the start of Armed Forces Week.
A short ceremony was held on Monday June 21 in front of the newly-opened Town Hall, when the flag was blessed by the Reverend Canon Dr James Theodosius, Rector of Holy Trinity Church. The flag was then raised at 11am while a bugler from the Royal British Legion played.
The event was attended by representatives from Craven District Council, Skipton Town Council, the Royal British Legion Skipton Branch and the 5th Regiment Royal Artillery.
Councillor Alan Sutcliffe, Chairman of Craven District Council, said: "We are pleased to mark Armed Forces Week in Skipton once again this year. We welcome the opportunity to honour the men and women, past and present, who have served their country."
The flag will be lowered on Saturday June 26, with a short ceremony introduced by Councillor Sutcliffe. The flag will be presented to Skipton Royal British Legion veteran Martin Winterton by Lt Col Christopher O'Halloran.
Due to Covid restrictions there will be no parade this year. Anyone wishing to watch the ceremony is asked to maintain social distancing.  
Last year, the flag was raised and lowered in small, socially distanced ceremonies, and the events were filmed by Craven District Council so that members of the public could view them safely.
The Armed Forces Week events are organised by Craven District Council, Skipton Town Council and the Royal British Legion Skipton Branch.