Crackdown on dog fouling across Craven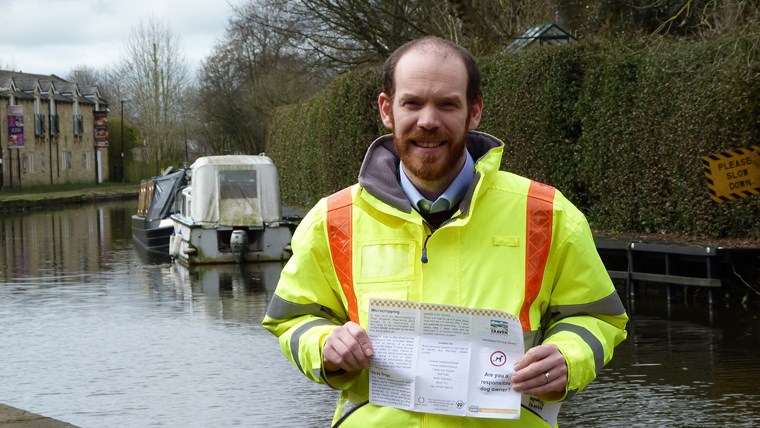 Council officers have been patrolling the streets in the early mornings, daytime and evenings, looking out for offenders and handing out leaflets and free dog bags to dog walkers.
Councillors and residents in Hellifield and Long Preston have also been campaigning by delivering leaflets through hundreds of doors and urging people to be more responsible.
Councillor Chris Moorby, ward member for Hellifield and Long Preston, said: "Dogs are a man's best friend and they are really good company especially for people living on their own. It is known that stroking a dog will relieve stress; dogs visit care homes etc. for this purpose.
"The problem of course is when they go for a walk and they do their business, some people will not clean up after them. This is not the dog's fault and no blame can be put on them, it is the responsibility of the person in charge of them.
"Where I go for a walk with my dogs around the lanes in Long Preston there are piles of the stuff on the verges and in gateways.  When a car comes along I have to get out of the way and onto these verges and invariably I stand in the dog muck; when the farmer comes along to enter his field the same thing happens to him.
"As well as being antisocial it is a danger to health, especially for children. The other thing that happens is people use the dog bags and then just leave them in situ. I did a litter pick around one of the walks and the amount of poo bags I picked up was unbelievable.
"I have had a number of responsible dog owners commenting on the amount of dog mess and they are getting very annoyed, as we are all getting tarred with the same brush.
"I urge people to be more considerate, and be proud to say that they clean up after their dogs."
If the person in charge of a dog fails to clear up after it, they may be issued with a £50 fixed penalty.  The offender will then have 14 days in which to pay the fine or face prosecution in Magistrate's Court, where a maximum fine of £1000 can be imposed.
However, councils across the country find it difficult to catch offenders. Wayne Gray, Environmental Health Officer at Craven District Council, said: "Tackling dog fouling is very important to us because it is one of the biggest concerns among residents.
"We do treat this as a high priority and seek to educate and inform the public. We carry out regular patrols and will issue fixed penalty notices to people who don't clean up after their pets.
"People often ask why we don't use DNA testing but that doesn't really work as it depends on the owner registering the dog in the first place – an irresponsible owner is unlikely to do this.
"It's a tricky problem to solve. People can help – if you witness an irresponsible dog owner who fails to clean up after their dog, please make a note of the date, time and location of the incident, along with a description of the dog and the owner, and report it to us along with their address if you know it.
"We know that most dog owners are responsible – it's just a small minority who spoil it for the rest of us."
Schools across the district have also been contacted and Cleaner Neighbourhoods will in partnership with the Dogs Trust deliver a series of educational talks.
If you have any information about an offender then please report this to Craven District Council at www.cravendc.gov.uk/cleaner-neighbourhoods/