You are here:
Skipton Triathlon entrants donate almost £8,000 to Sue Ryder Manorlands
Skipton Triathlon entrants donate almost £8,000 to Sue Ryder Manorlands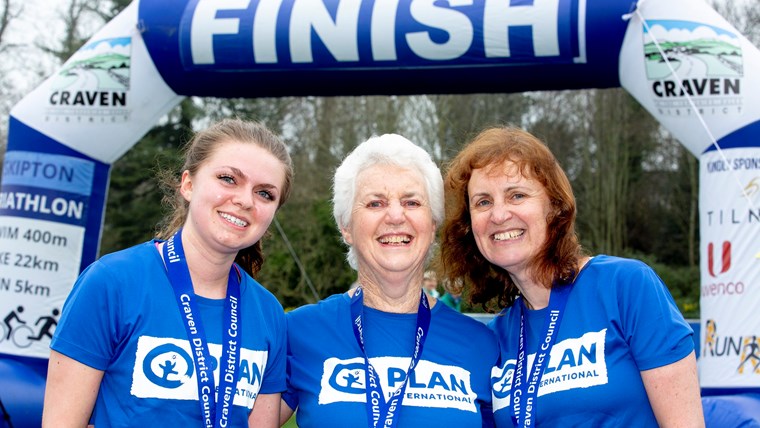 Skipton Triathlon entrants have donated £7,818 to Sue Ryder Manorlands after the cancellation of the 2021 event.
Craven District Council gave entrants the option of giving their refunded entry fee to Manorlands – and around 230 people decided to donate.
The event was originally planned to take place in April 2020, but was postponed twice due to Covid-19 and the decision was finally made to cancel for 2021 due to the uncertainties of Covid and ongoing restrictions.
Sharon Hudson, Communications, Customer Services and Partnerships Manager at Craven District Council, said: "We're delighted that so many people have generously decided to donate their Skipton Triathlon entry fees to Manorlands.
"We know many entrants are disappointed about the cancellation of the event but the knowledge that they are supporting Manorlands Hospice will be some comfort, and we hope to see Skipton Triathlon back again in the future.
"Manorlands provides expert palliative care, advice and support for local people who are living with life-limiting conditions, as well as supporting their families. This specialist care and support are free to the users but Manorlands needs to raise £2.1 million per year, to keep this essential provision in our local area. This has been a very difficult year for their fundraising so every penny is vital.
"We hope to be able to plan and hold the Skipton Triathlon in years to come and look forward to continuing to work with Manorlands as our charity partner."
Molly Ralphson, Community Fundraiser at Manorlands, said: "Thank you for such a fantastic amount donated to Manorlands Hospice.  
"This really is a great boost to us at a particularly difficult time. The charity is facing a shortfall of over £1 million a month whilst its doctors and nurses continue to play a vital part in the Coronavirus effort and the generosity of the triathlon participants really will help to bridge this gap in income - many thanks to you all for your part in making this happen."
Triathlon entrants were given the option of receiving a refund of 75 per cent of their event fee, along with their 2020 buff and medal, or to donate 75 per cent of their 2020 entry fee to Manorlands and receive their buff and medal. 25 per cent of the entry fee went to cover costs which had already been incurred in the preparation of the event.