You are here:
Dementia Friendly Craven launches with Alzheimer's Society Roadshow
Dementia Friendly Craven launches with Alzheimer's Society Roadshow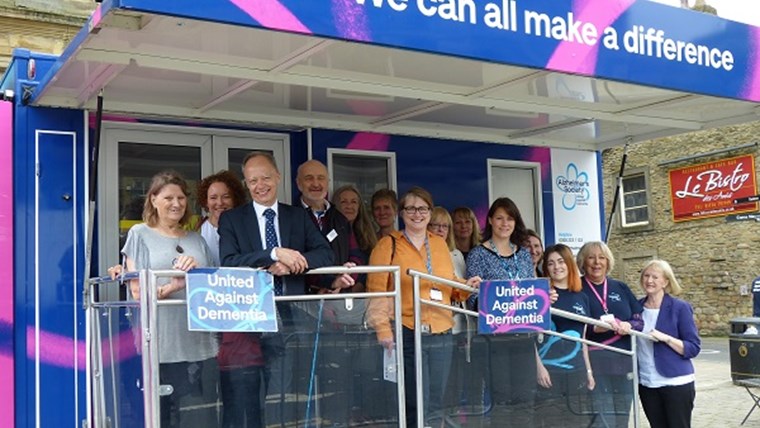 A new organisation 'Dementia Friendly Craven' launched on May 12 with an Alzheimer's Society Roadshow outside Skipton Town Hall.
The event also marked the beginning of Dementia Awareness Week, which runs from May 14 to May 19.
People dropped in throughout the day to find out more information about dementia from the roadshow.
The new organisation is formed from the Skipton and South Craven, and the Settle Dementia Action Alliances.
Alison Wrigglesworth, Services Manager at the Alzheimer's Society, said: "We are delighted that Craven is making such positive efforts to become dementia friendly."
The Alzheimer's Society has two new dementia support clinics a month at Dyneley House Practice in Skipton and people worried about their memory or caring for someone with dementia can book appointments at the clinics on 01756 799311.
At Craven District Council, Customer Services and Skipton Town Hall staff have already received dementia awareness training.
Sharon Hudson, Communications and Partnerships Manager, said: "We're delighted to be part of this initiative as we believe it's really important for our staff to be aware of people with dementia and their needs. By working together we can increase our understanding, reduce stigma, make life easier for people, and help families to continue supporting their loved ones."
Dementia Friendly Craven has secured funding from North Yorkshire County Council for a development worker, who will work with the market towns and villages in the district to make Craven communities more dementia-friendly.
The development worker will listen to people with dementia and their families, bringing people together so they can say what will be helpful to them.
There are also plans to establish a peer-support group for people with dementia, their families and carers, once the development worker is in post.
Dementia Friendly Settle have been running a number of events throughout Dementia Awareness Week and will be giving a short talk at the Big Breakfast run by Churches Together on Saturday May 18.