Le Petit Depart - 5th anniversary ride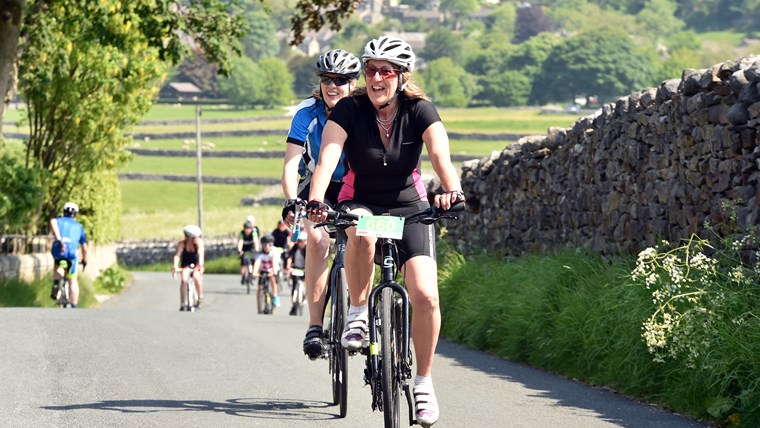 Cyclists will be celebrating the fifth anniversary of Le Petit Depart sportive with another spectacular ride on Sunday June 3.
The event was set up as a partnership between Craven District Council and Skipton Cycle Club as a legacy event for the 2014 Tour de France: Grand Depart.
Cyclists can choose between two routes of 38 or 80 miles, both of which follow some of the route the Tour de France took when it came through Craven.
Places are still available for this year's event and anyone who enters will be put into a prize draw to win a fabulous Trek Domane AL road bike (male or female and fitted) from Chevin Cycles. Hope are also offering a set of their 20FIVE Pro4 road wheels to be won and taken away by a lucky participant on the day.
Councillor Linda Brockbank, Lead Member for Resilient Communities, said: "We're very proud of Le Petit Depart – it's a fantastic way for cyclists to experience the wonderful scenery of Craven.
"Hundreds of people have taken part in the event over the last four years and we've had some wonderful feedback – people love the stunning countryside, the enthusiastic, friendly marshalls and the feed stops!"
Cyclists following the 80-mile route travel from Skipton up through Kettlewell and Buckden, tackling the Kidstones Climb, then on into Wensleydale, Widdale and to the Ribblehead viaduct before heading back through Horton in Ribblesdale and Settle, up the aptly named High Hill Lane and back via Airton and Hetton.
The recreational riders split from the sportive at Kettlewell and turn back through Grassington, Burnsall and Bolton Abbey before heading back to Skipton via Embsay.
Sanjai Bhatia, Director, Chevin Cycles, said: "We are delighted to be partnering up with Skipton Cycling Club to support this year's Le Petit Depart in June.
"It has been amazing to see the event grow over the years and undoubtedly become one of the best Sportives in Yorkshire. Chevin Cycles are committed to supporting the local cycling community in Skipton to ensure it prospers for future generations to enjoy."
Volunteers from Skipton Cycle Club marshall the event around the route, welcoming riders at the sign on and start, running the 3 feed stops, which include award-winning Farmhouse Fare pork pies, and then greeting participants back at the finish.
Club chairperson Caran Stephenson said: "You don't need to be a super fit athlete to take part in LPD – although there will be many about. You can also do the 38mile scenic ride and just have a great day out and you'll be supported all the way round by our enthusiastic club volunteers. 
"The cost of entry is from £23 and you will get your money's worth in pies and butties alone. We would love to see you there so visit the website and book for yourself and a few of your mates or family – under-16s get free entry - and join us for our anniversary ride."
The Hetton Angels cycling teams, organised by local cyclist Peter Vernon, have taken part in Le Petit Depart since it started.
Mr Vernon said: "We've all loved seeing the Tour de France and Tour de Yorkshire events in the county, but the very best bits are captured in Le Petit Depart, and if you only get one chance to feel the same challenge and excitement, cycling in the LPD is the one for you."
The Team Challenge trophy is sponsored by JACS Trade and DIY, who have supported the event from the beginning. A dozen teams will be battling it out for the honours and current trophy holders are Team JACS who had an average speed of 25.66kph last year. 
Gavin Haworth, of JACS, said: "JACS is a longstanding supporter of the local community; we have taken great pride in supporting Le Petit Depart since its conception back in 2013, and we will continue to do so over the coming years. The very best of luck to all those taking part."
Local company Physiofusion will be on hand during the day to offer post ride massages, with 50 per cent off a treatment for participants who take their event number in.
To check out a short video of the ride from 2016 click here: https://youtu.be/7rxkFYKH6OE
Le Petit Depart 2018 takes place on Sunday, June 3, 2018. The Challenge 80mile Sportive costs £36 and the Scenic 38mile Sportive costs £23. For more details and to enter go to www.lepetitdepart.co.uk
For more details on Skipton Cycling Club go to www.skiptoncyclingclub.org.uk