You are here:
Great Craven Spring Clean collects more than 180 bags of rubbish
Great Craven Spring Clean collects more than 180 bags of rubbish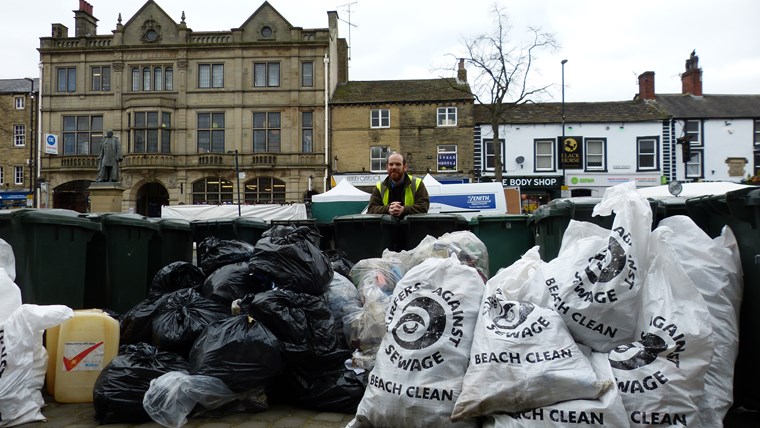 Around 250 people took part in litter-picks around the district during March and April, collecting more than 180 bags of rubbish in total.
Residents joined Plastic Free Skipton, Craven District Council, Friends of Aireville Park and other community groups in towns and villages across Craven.
Groups in Skipton, Cross Hills, Lothersdale, Giggleswick, Gargrave, Ingleton, West Marton, Clapham, Cononley, Embsay, Bradley, Hellifield, Calton, Long Preston, Scosthrop, Malham and Appletreewick all got involved.
Craven District Council provided bags and litter-picking grabbers and collected the rubbish - then put up a stall on Skipton High Street to display some of the litter collected during the clean-up.
Litter from Cadbury, Walkers, Burger King, Lucozade and Mars was most commonly found in Craven during the recent Great British Spring Clean.
A survey by Plastic Free Skipton found that the most litter originated from these five multi-national companies.
Amy Brown, co-leader of Plastic Free Skipton, said: "We carried out an audit of the brands of rubbish found at The Spring Clean and the figures were submitted to Surfers against Sewage. It gives a snapshot of the most littered products in Skipton and, ultimately the UK.
"Of course, there needs to be a change in behaviour by the people who drop their litter. However, it is essential that the companies who produce it are also held responsible for the quantity of rubbish that their products create."
Paul Ellis, Director of Services at Craven District Council, said: "Well done to all the groups who turned out to help tidy up the district during March and April. We were shocked at how much litter was collected in our towns and villages.
"Our staff work hard all year round to help keep Craven clean - we are currently carrying out litter-picking on the verges on the main roads around the district. However, we have to cover a large area so any help from community groups is very welcome.
"We also want to get the message across to stop people from dropping litter – and put pressure on multi-national companies to take responsibility for the amount of waste created by their products."
Keep Britain Tidy's Great British Spring Clean is the country's biggest mass-action environmental campaign, and was held from March 22 to April 23. Across the country there were 17,097 clean-ups, spending 1.1 million hours litter picking, and collecting almost 1 million bags of litter.
Craven District Council will provide rubbish bags, litter-picking grabbers and collection of any litter to community groups at any time of the year – groups can email wastemanagement@cravendc.gov.uk to book these.