Craven Museum online roadshow continues during coronavirus crisis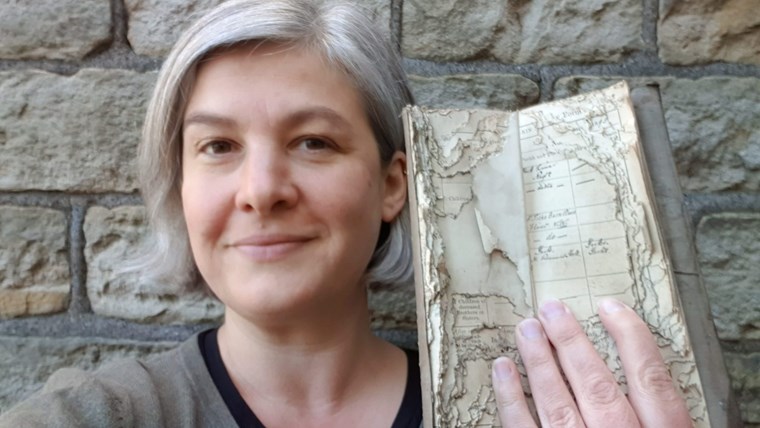 While Craven Museum is closed for its exciting National Lottery Heritage Funded redevelopment, and the Rural Roadshows are on hold due to the coronavirus crisis, the Museum team are still finding ways to share the fascinating collection with the residents of Craven and beyond.
The Skipton Town Hall team have been showcasing their own most-loved treasures from home, via social media, and encouraging other Craven residents to do the same.
On Thursday April 30, the team took part in #MuseumFromHome, joining BBC Arts, Museums Association and Art Fund to celebrate all the amazing museums across the UK.
They asked the community in Craven to share their own stories and treasures, and every hour throughout the day a new object was revealed.
Laura Steele, Marketing Officer at Skipton Town Hall, shared the amazing discovery that her family made in their 1907 terraced house in Skipton.
"When we were doing some DIY we found a soldier's record book under the bedroom floorboards," said Laura.
"The book has been nibbled by something but we can see that it belonged to Alfred Charles Briggs. The records in the book date from 1890 – 1898. The book includes Alfred's Will, Savings Bank Account, Army Clothing Account and even his clothing measurements."
Alfred and his son Edmund are both mentioned in the book and online record 'Craven's Part in the Great War'. Alfred was a Regimental Quarter Master Sergeant and for part of his service he worked as a clerk at Skipton Drill Hall. Edmund worked as a weaver in Embsay Mill before World War One, and died in the Battle of the Somme in 1916, aged just 19. Alfred died of illness aged 45, in 1917, the year after he lost his son. 
Laura said: "We are really glad that Alfred left, or lost, his book under our floorboards so we could learn about him and the history of our house."
The videos are still available to watch on Skipton Town Hall's Facebook page at www.facebook.com/pg/SkiptonTownHall/videos and the museum team hope that residents of Craven will continue to share their own treasures on social media. Some items will be featured in an online digital Museum of people's objects to celebrate the rich heritage of Craven.  
Danielle Daglan, Cultural Services Manager at Craven District Council, said: "Over the last 18 months, our team of Museum staff and volunteers have travelled across the Craven district with their Rural Roadshow events, taking along an amazing collection of objects from the museum's stores with them.
"We have also encouraged people to bring along their own treasures, and many of the objects brought in, and photographs of the artefacts, have been added to the online 'People's Museum' on the project blog.
"Due to the current lockdown we are unable to carry out these roadshows in person at the moment, but we would still love to hear from residents about their amazing finds.
"Your objects don't have to be very old; in fact, they can be brand new or homemade. The museum team want to know why you love your object so much and what it means to you."
The People's Museum blog can be found at www.storiesandtreasures.wordpress.com/peoples-museum
'Stories and Treasures of Street and Dale' is a National Lottery Heritage Funded Project to redevelop Craven Museum. During the three-year project, events and activities created will excite and inspire, and the redevelopment will increase accessibility of the Museum and the collection, as well as create new and innovative displays to tell the stories and showcase the treasures of the Craven Dales.
For more information about Craven Museum go to www.cravendc.gov.uk/skipton-town-hall/craven-museum or email museum@cravendc.gov.uk