Plans to reopen Skipton Market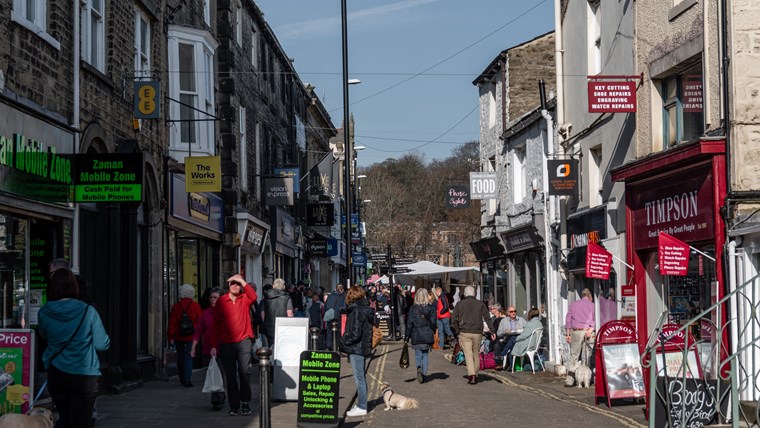 Craven District Council, Skipton Town Council and Skipton BID have drawn up plans to reopen Skipton Market from June 10.
The plans include the closure of the High Street to traffic on Wednesdays, Fridays and Saturdays to allow safe social distancing.
Businesses and market traders are being asked to share their thoughts regarding road closures and the reopening of the High Street for the market and non-essential shops.
To manage the market safely it is planned to limit market days to Wednesdays, Fridays and Saturdays, with a road closure in place from 10am to 4pm on market days, between Jerry Croft and the roundabout at the bottom of the High Street.
Market stalls will then be able to face towards the road, so that customers queuing for the stalls will not interfere with other customers on the High Street.
Councillor Richard Foster, Leader of Craven District Council, said: "We know many traders are keen to get back to work as soon as it is safe for them to do so, and we believe these plans will help boost the local economy while keeping customers and workers safe.
"However we are contacting High Street businesses and asking them to share their thoughts over the road closures, so that we can seek to resolve any issues."
Councillor Karen McIntyre, Chairman of Skipton Town Council's Market Committee, said: "We are looking forward to seeing our regular traders return to the High Street and have been working closely with partners to ensure this can happen in as safe and welcoming manner as possible for users of both the Market and other town centre businesses."
"We have kept in contact with our traders over the last three months, assisting them wherever we could, and have recently been speaking individually with them to help ensure they can prepare for their return. We will continue to work with them as the Market starts to reopen." 
Geraldine Thompson, BID Manager & Director, said: "These are unprecedented times, and Skipton BID is working in partnership with the District and Town Councils to facilitate a smooth re-opening of our town centre. There will be lots of new challenges to overcome, and closing the High Street on market days should create the space needed for the markets, businesses and their customers to stay safe. 
"A short survey has been sent to the businesses, and I would encourage all to share their thoughts. Don't be silent, we are listening!"
A team of Town Centre Ambassadors, and Craven District Council's Community Safety Officer, will be present on the High Street to assist local residents, visitors and traders – and to liaise with all businesses to try and resolve any matters which might arise on the day.
The Government announced on May 25 that market traders in England will be permitted to resume trading from 1st June 2020, and non-essential shops are allowed to reopen from Monday June 15.
A survey is being circulated to businesses, asking them to share their thoughts on the plans. The survey also asks non-essential retail businesses if they are planning to reopen from June 15, and if they are putting any additional safety measures in place, and if they need any further advice about safely opening their premises.
Any businesses who would like a copy of the survey but have not received one, are asked to email comms@cravendc.gov.uk
The survey is also available online at www.surveymonkey.co.uk/r/XH8KN2X
For more information and advice on Craven District Council services go to www.cravendc.gov.uk/coronavirus
For any enquiries relating directly to the operation of the Market please contact Stefan Bodnarczuk, Market Manager on 01756 700553 or market@skiptontowncouncil.gov.uk