You are here:
Respect social distancing, communities and the countryside in Craven
Respect social distancing, communities and the countryside in Craven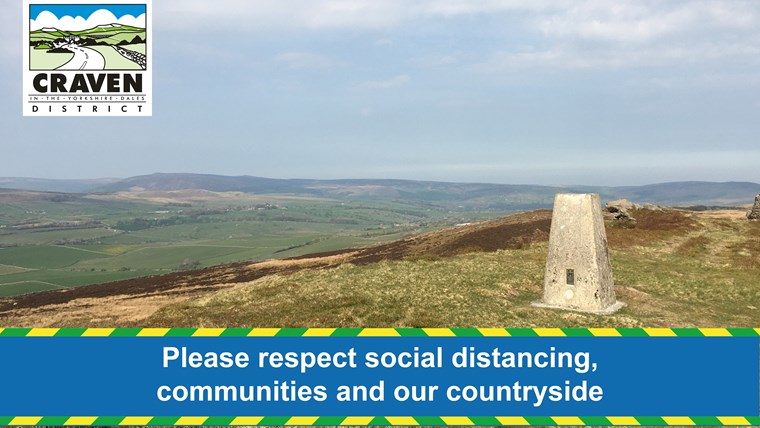 Residents and visitors to Craven are being urged to stay at home as much as possible, respect local communities and follow social distancing at all times, following new Government guidance this week.
From Wednesday May 13, the Government is allowing people to "exercise outside as many times each day as they wish" and stating that "people may drive to outdoor open spaces irrespective of distance, so long as they respect social distancing guidance while they are there". 
The Yorkshire Dales National Park Authority is reopening its car parks and will be reopening toilets as soon as possible. Craven District Council car parks remain open as does Aireville Park in Skipton, but the playground is still closed. However, people are being urged to show respect for the countryside and each other.
Craven District Council leader Richard Foster said: "We were hoping that the Government would wait a little longer before making this announcement; however, we and the Yorkshire Dales National Park Authority are now preparing to manage the situation given this new Government guidance.
"We know many people will be desperate to get out of towns and cities and into the countryside. However, we would urge people to stay at home as much as possible, and if you do visit, please show respect for social distancing guidelines, respect for residents and each other, and respect for the Countryside Code.
"In some of our most popular tourist areas, social distancing is going to be difficult due to narrow footpaths and lanes so we would ask people to enjoy open countryside away from crowds, and keep a safe distance from homes, schools, and farms. Please bear in mind that many residents of rural villages are particularly vulnerable to the virus.
"Please be aware that many shops, services and facilities remain closed in towns and villages. Please keep at least two metres away from others and avoid gathering in groups.
"If certain areas of our towns, villages and countryside are overwhelmed by visitors and social distancing is failing to be maintained, then we will be lobbying for this new Government guidance to be changed. The Government has indicated that it will reintroduce lockdown measures if necessary.
"I'd like to thank all our residents for their cooperation and adherence to the guidance so far. We know Craven relies on tourism and we want to welcome back tourists when it is safe to do so, but we must protect our communities during this difficult time."
For more information and advice go to www.cravendc.gov.uk/coronavirus