Craven District Council celebrates launch of Skipton's High Street Heritage Action Zone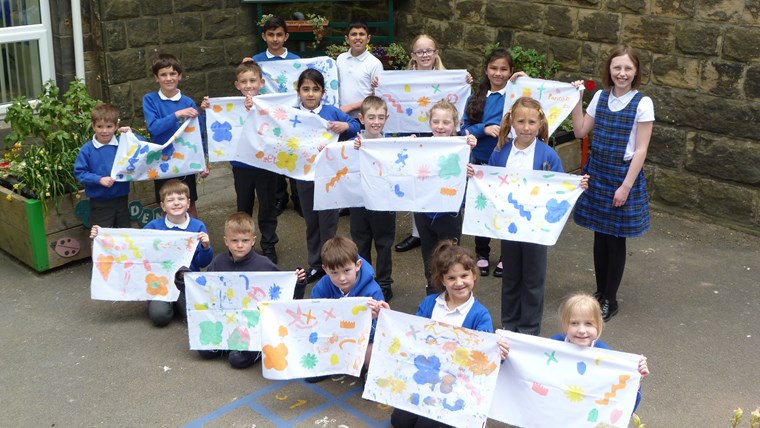 Craven District Council has installed flags created by local schoolchildren and colourful bunting in Skipton's High Street, Otley Street and Coach Street to mark the official launch of Skipton's High Street Heritage Action Zone (HSHAZ). 
Using stencils, children from Christ Church Primary School, Water Street Primary School, St Stephens Primary School, and Greatwood Primary School designed their own flags during a free online workshop by local graphic designer Sian Laura. These designs were combined to produce 38 flags, now flying proudly in Skipton town centre.  
Skipton is one of more than 60 High Street Heritage Action Zones across the country, which aims to secure lasting improvements to historic high streets for the communities who use them. The initiative is Government-funded and run by Historic England. 
Craven District Council successfully secured just over £1.5m, which will be used to fund a programme of capital projects and cultural events over the next three years.
The Council was also awarded £7,800 from the Historic England Pilot Activity Grant for the launch of the project, and Skipton BID contributed towards the bunting.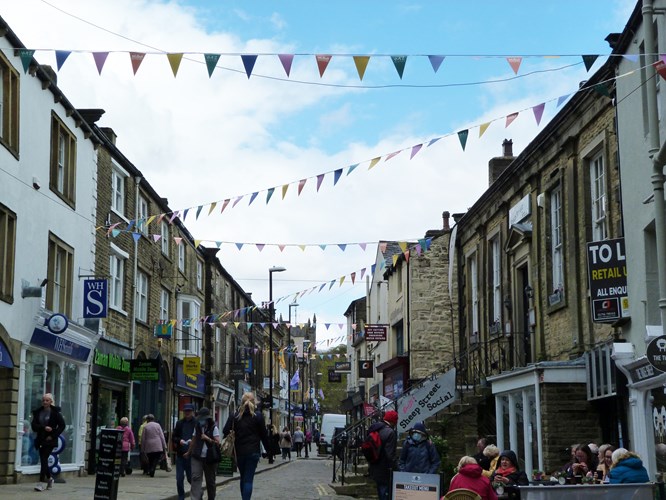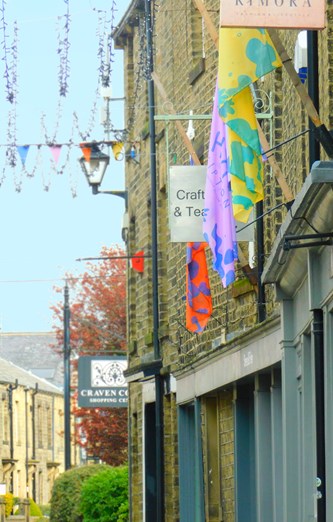 Paul Shevlin, chief executive of Craven District Council, said: "The High Street Heritage Action Zone project in Skipton will have many benefits for our communities. Skipton Town Hall itself will benefit from part of the funding, to complete the refurbishment and restoration project. We're looking at ways to improve public space around the town centre, including the ginnels running off the High Street, and plan to bring more of the historic buildings around the town centre back into use.
"Events are also being planned to take place around the town centre to celebrate its historical heritage, develop cultural activities and bring more young people into Skipton."
"Stories of Skipton" HSHAZ posters are being developed for businesses and shop owners to display in their windows, featuring a photograph from the archives along with interesting historical snippets. Visitors can combine their shopping or café stop with a light-hearted local history trail.
The final creation to mark the launch of the HSHAZ programme is "The Town's Voice" which is currently on display at Skipton Library.  This piece was created by Sian Laura using responses from Skipton's HSHAZ "Have Your Say" Cultural Programme Consultation in December 2020.  Local volunteers recorded selected responses from the consultation.  The recordings were edited in order to extract the audio waves and then transformed into a colourful piece of contemporary artwork.
Skipton's HSHAZ multi-project programme is being designed and delivered by Craven District Council, in partnership with Skipton BID, Skipton Town Council and North Yorkshire County Council, along with creative and historical contributions from community groups such as Skipton Civic Society, Fresh Perspective, Craven Arts Trust and Great Place Lakes and Dales.
Notes:
About High Streets Heritage Action Zones
The High Streets Heritage Action Zones is a £95 million government-funded programme led by Historic England, designed to secure lasting improvements and help breathe new life into our historic high streets for the communities and businesses that use them. Historic England is working with local people and partners to unlock the rich heritage on these high streets, through repair and improvement works as well as arts and cultural programmes, making them more attractive to residents, businesses, tourists and investors. https://historicengland.org.uk/services-skills/heritage-action-zones/regenerating-historic-high-streets/
About Historic England
We are Historic England the public body that helps people care for, enjoy and celebrate England's spectacular historic environment, from beaches and battlefields to parks and pie shops. We protect, champion and save the places that define who we are and where we've come from as a nation. We care passionately about the stories these places tell, the ideas they represent and the people who live, work and play among them. Working with communities and specialists we share our passion, knowledge and skills to inspire interest, care and conservation, so everyone can keep enjoying and looking after the history that surrounds us all.