You are here:
Tonnes of rubbish collected by Craven District Council in Spring Clean
Tonnes of rubbish collected by Craven District Council in Spring Clean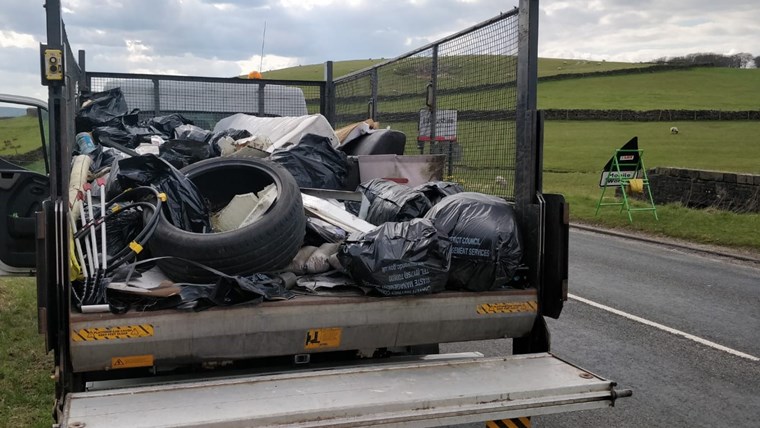 Craven District Council officers collected over three tonnes of litter in the first three weeks of the Spring Clean of verges along the main highways of the district.
The clean-up began on April 6 and will run for around eight weeks. One item found by the team was a bag containing keys, money and ID, which had been lost from the back of a motorbike. The owner was contacted and the bag returned.
Tracy McLuckie, Environmental Services Manager at Craven District Council, said: "Our teams are working hard around the district to ensure Craven looks at its best for residents and visitors.
"Unfortunately there has been a huge amount of litter left by thoughtless drivers along our roads this year. We have even had a couple of drivers throw litter out of their car window while passing the crews.
"We have to plan this clean-up programme carefully as it can be dangerous working on the verges of busy roads, and we need to create a rolling road closure to protect staff. We ask drivers to be patient and considerate, and of course we would urge people not to drop litter and fly-tip in the first place."
The Environmental Protection Act of 1990 states that if a person drops, throws, deposits, or leaves anything that causes defacement in a public place, they are committing a littering offence. People caught littering can be issued with a fixed penalty notice. Failure to pay will result in prosecution, so always try to use a litter bin or take it home.
If groups would like to organise or take part in a litter-pick event or community clean-up, Craven District Council can help by providing free refuse sacks, gloves, litter-pickers and free collection of the rubbish. 
Please contact Waste Management Services on 01756 700600, or email wastemanagement@cravendc.gov.uk for more information.
Waste Management are also supporting Aire Rivers Trust with their DNAire Project to clean up the River Aire. Volunteers are cleaning the river, and the waste management crews are collecting and disposing of the waste collected.  Further information on the project can be found on the Aire Rivers Trust website: https://aireriverstrust.org.uk/dnaire