You are here:
Craven District Council warns fly-tippers – you will be fined
Craven District Council warns fly-tippers – you will be fined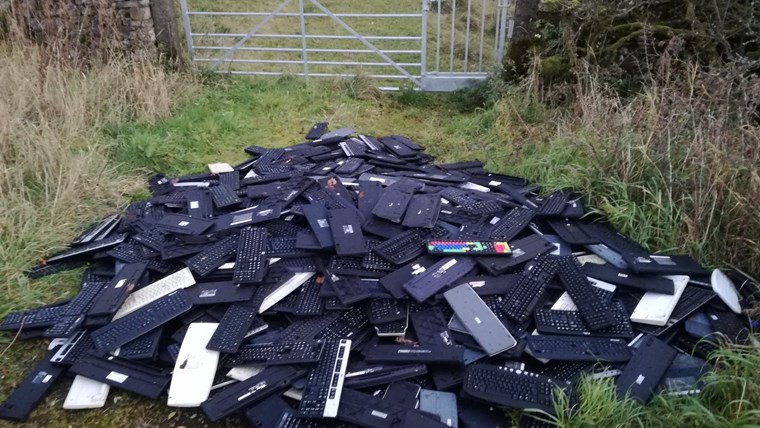 Craven District Council is warning fly-tippers they could face large fines if they are caught spoiling the environment.  
In recent months a fly-tipper in Craven has been fined £1,320 by the courts and offenders can face up to £50,000 penalties and up to 12 months' imprisonment.
Last week a huge pile of computer keyboards was found dumped near Horton-in-Ribblesdale, and there have been a number of other incidents recently.
Paul Ellis, Director of Services at Craven District Council, said: "We know residents are appalled by this destruction of our beautiful countryside and we are determined to crack down on those who break the law in this way.
"Businesses have a legal responsibility to dispose of their waste in a responsible manner.
"Any waste that comes from a commercial activity is business waste and companies must complete a waste transfer note for each load of waste that leaves their premises, check if their waste carrier is registered to dispose of waste, and not allow the waste carrier to dispose of their waste illegally.
"Residents can dispose of waste including old furniture, fridges, freezers, cookers, lawn mowers, microwaves, vacuum cleaners, dishwashers and washing machines, free of charge at North Yorkshire County Council's Household Waste Recycling Centres in Skipton and Settle.
"There really is no excuse for people to dump waste illegally and spoil the environment for the rest of us."
Craven District Council launched a campaign: 'Operation: Cleaner Craven' in November 2016.
Crimes such as fly-tipping, dog fouling, littering, smoking in smoke free places, stray dogs and abandoned vehicles cost the council thousands each year. The council has a dedicated fly-tipping team and work to tackle fly-tipping cost almost £75,000 last year.
The council has deployed new surveillance cameras to catch offenders, and warning notices have been displayed at fly-tipping hotspots around the district.
Penalties for environmental crimes can vary but do include fines of up to £50,000 and/or up to 12 months' imprisonment.
Residents can report environmental crimes by calling 01756 700 600, or at https://www.cravendc.gov.uk/cleaner-neighbourhoods/
For more information about the items that can be accepted at North Yorkshire County Council's Household Waste Recycling Centres, go to www.northyorks.gov.uk/household-waste-recycling-centres