Sign up for Skipton Triathlon 2019!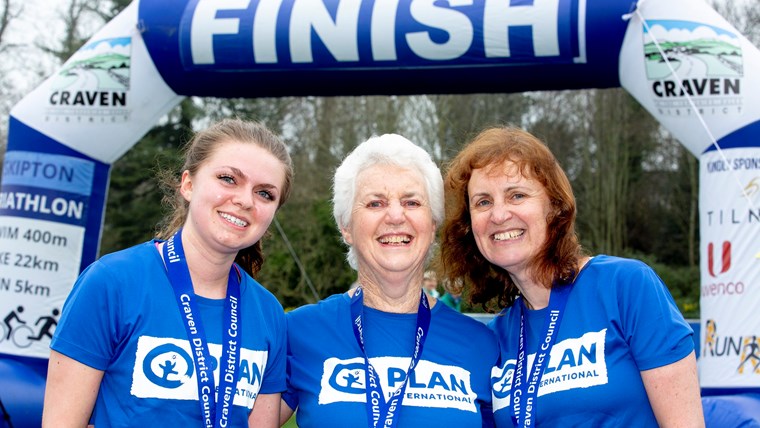 Entries for Skipton Triathlon 2019 opened on November 1 – and places are sure to be snapped up, with early bird prices available for a limited time.
Craven District Council organised the event for the first time in April 2017 and repeated its success earlier this year, with more than 800 people completing the event in Aireville Park.
Skipton Triathlon will be held again on Sunday April 14, 2019, and prices remain the same as this year. The event is the biggest pool-based triathlon in the country; a popular event for first-timers and elite athletes alike.
The race involves a 400m swim in the Craven Leisure pool, followed by a 22km bike ride out through East and West Marton and Thornton-in-Craven, and then a 5km run around Aireville Park.
Councillor Linda Brockbank, Craven District Council's lead member for Resilient Communities, said: "This is a fantastic event and each year we get amazing feedback from people who have taken part.
"From complete beginners to talented elite athletes, this race attracts a huge range of competitors. This year we even had three generations of the same family taking part in the relay event!
"We've been very lucky to have some great sponsors, supporters and volunteers, who help us stage this event and make it such a memorable experience."
The 2019 event will again be sponsored by RunRight and Omnis Design, and they will be joined this year by Barnfield Construction, Craven District Council's Joint Venture partners.
Tim Webber, Chairman and Managing Director of Barnfield Construction, said: "We're proud to be supporting the popular Skipton Triathlon through our exciting new venture, Craven Barnfield Regeneration Limited.  We wish all the participants lots of luck for the testing challenge."
Mark Wilkinson, of RunRight, said: "We are delighted to be supporting this fantastic local event again. The atmosphere on the day is great and it gives us an opportunity to raise awareness of the specialist services that Run Right can offer. We are planning again to offer a free run analysis service on the day to people taking part in the triathlon."
Jonathan Mashiter, of Omnis Design, said: "This will be our second year of sponsoring Skipton Triathlon. It's a great event for the local community and so we were keen to offer our support again. We are a local business and the event also gives us a platform to promote the services that we offer to businesses in Skipton and beyond."
For more information about Skipton Triathlon, or to register an interest in taking part, please go to www.cravendc.gov.uk/skiptontri2019
From November 1, you can sign up for the triathlon at www.britishtriathlon.org/events.
An 'early bird' offer is in place from November 1, with prices at £38 for British Triathlon Federation (BTF) members, £41 for non-BTF members, and team entries at £63 (BTF) and £73 (non-BTF). After the early bird offer ends, the standard prices will be £43 (BTF) £46 (non-BTF) and team entries £73 (BTF) £83 (non BTF).