The Damned United – on stage at Skipton Town Hall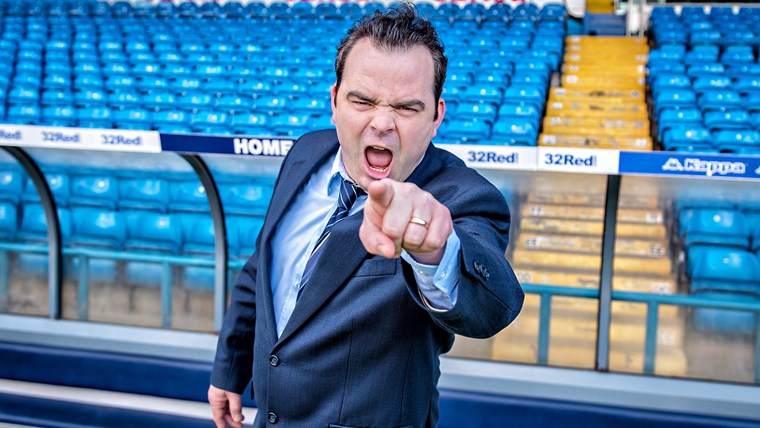 The Damned United comes to Skipton Town Hall on Friday November 16 as Red Ladder Theatre Company presents its stage production of David Peace's best-selling book.
This acclaimed play sees a cast of three performing the gripping story of Brian Clough's disastrous 44-day period as manager of Leeds United.
Danielle Daglan, Programming & Venue Development Manager at Craven District Council, said: "This production was a sell-out success when it premiered in 2016 and we're delighted it's coming to Skipton Town Hall as it tours nationally for the first time.
"The story takes audiences back to 1974 when Brian Clough, the enfant terrible of British football, was desperate to redeem his managerial career and reputation by winning the European Cup with his new team, Leeds United - the team he had openly despised for years, the team he hated and which hated him. It's a fascinating insight into a flawed but brilliant mind."
The production is adapted by award-winning playwright Anders Lustgarten and directed by Red Ladder's artistic director Rod Dixon.
Rod Dixon said: "As a story The Damned United has it all – passion, power struggles, tragedy and a classic anti-hero in Clough - which lends itself brilliantly to theatre.
"Anders' adaptation captures the grit, poetry and darkness of David Peace's writing, and by charting the fall of Brian Clough and exposing what made 'Old Big 'Ed' tick, audiences are given a fascinating insight into the troubled but brilliant mind of a flawed genius –who to this day, remains one of the most controversial figures in sporting history."
Author David Peace said: "Football itself, at every level, is drama, theatre and spectacle played out before a living, breathing and usually very partisan audience; this is what Anders, Rod and everybody involved brought to the story which neither the book nor the film could do."
Performed by Luke Dickson (Brian Clough), David Chafer (Peter Taylor) and Jamie Smelt (Sam Longson/Syd Owen/Jack Kirkland et al), this stripped-back new staging brings audiences up close to the sweat, fury and power-struggles from pitch-side and inside the mind of 'Old Big 'Ed'. 
The rights for The Damned United were donated by David Peace to Red Ladder Theatre Company for £3.68 – a penny for each page in the novel –  as a show of support for the Leeds-based radical theatre company when it received a 100% cut to Arts Council Funding.
In 2016 Red Ladder and West Yorkshire Playhouse presented the world premiere of The Damned United as a co-production which played to full capacity houses during a five-week sell-out run. The play has now been freshly re-approached as a small-scale production for its first tour of the UK.
The show starts at 7.30pm on Friday November 16 and tickets cost £10 for adults and £8 for under-18s.
Tickets are available to buy online at www.cravendc.gov.uk/skipton-town-hall or from the Box Office: 01756 792809.