You are here:
Remembrance Day is marked in Skipton with a virtual ceremony
Remembrance Day is marked in Skipton with a virtual ceremony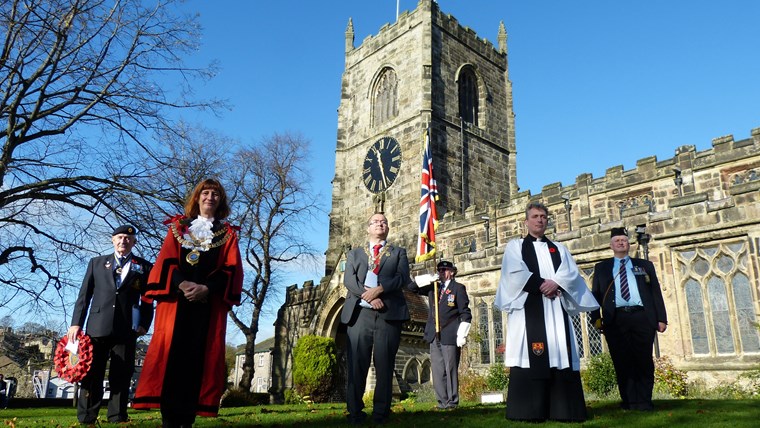 Remembrance Day in Skipton this year is being marked with a filmed ceremony which will be shown online due to Covid-19 restrictions. 
Holy Trinity Church, Skipton Royal British Legion, Craven District Council and Skipton Town Council have worked together to produce a film of a Remembrance Day service.
The film will be shown on Craven District Council's social media channels on Sunday November 8, and shared by other organisations.
Chris Harbron, chairman of Craven District Council, said: "We were all keen to pay our respects and mark Remembrance Day this year, despite the current circumstances.
"Due to the new Covid-19 national lockdown we need to be mindful of public safety but I'm glad we have still been able to remember those who have given so much for us in this way."
Cllr Karen McIntyre, newly elected Mayor of Skipton, said: "I was honoured to represent the people of Skipton at the historic virtual Service as we remember all those who have fallen or been injured on duty.
"Although we have had to remember them in a different way this year, it is important that the Town has still been able to mark the occasion."
Barry Blood, president of the Royal British Legion Skipton Branch, said: "In view of the Covid lockdown beginning this week we needed to put together a plan to ensure that the annual Act of Remembrance was marked in an appropriate way. We could not let Remembrance pass without some sort of recognition but this had to be done in a safe, socially distanced way.
"Filming took place on Wednesday morning in Holy Trinity and the plan is to broadcast the service on social media to the people of Skipton and Craven over the period of Remembrance."
The Reverend Canon Dr James Theodosius, Rector of Holy Trinity, said: "Ultimately, Remembrance Day is about hope and freedom, that's what makes the lives tragically lost so important. This little film is our way of keeping that vision of hope and freedom alive in these lock-down times. We might be prevented from coming together physically, but nothing can stop us from sharing the hopeful vision of those who have gone before us: a simple vision of peace, forgiveness and love."
The film will be shown on Sunday, November 8 at 11am on Facebook at www.facebook.com/cravencouncil and will also be available on the Council's YouTube channel.