East and West model is the best option for North Yorkshire local government reorganisation, say district and borough council leaders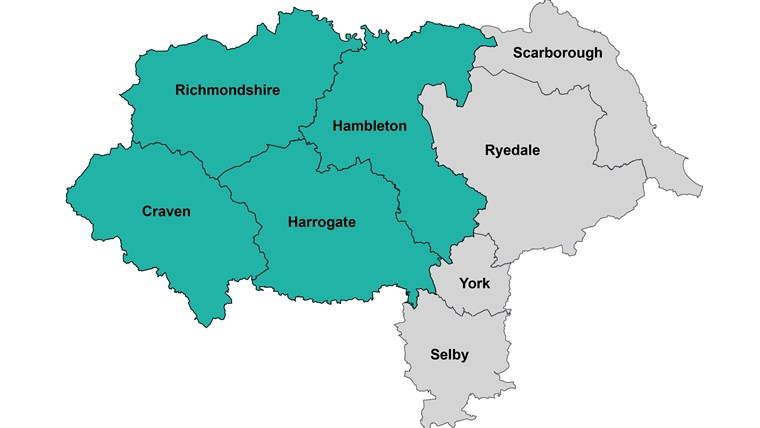 District and borough council leaders are ready to put forward the best model for local government reorganisation, after the Government invited councils across North Yorkshire and York to submit a proposal to create unitary authorities. 
A research study by experts at KPMG provides compelling evidence that an 'East and West' model would provide the strongest local leadership, the most effective services and the fairest democratic representation, as well as the most savings for local taxpayers.
KPMG have worked with the district and borough leaders to draw up a case for the creation of two unitary authorities; with Craven, Harrogate, Richmondshire and Hambleton in the West, and Selby, City of York, Ryedale and Scarborough in the East.
This would produce two unitary authorities with a similar population and economic size, giving them an equal footing in a combined authority, providing the strongest approach to unlocking devolution, whilst also having the optimum size levels to enable effective strategic and local service delivery to citizens and communities.
North Yorkshire County Council is expected to put forward a bid for a 'mega-council' model, which would create a unitary authority covering the whole of North Yorkshire, with a population of 618,000, while preserving the existing City of York unitary authority with a population of 211,000. The Government has previously indicated these population figures are not ideal.
Councillor Richard Foster, Leader of Craven District Council, said: "Over the last few months, district and borough council leaders have been working hard to develop the very best model for local government reorganisation in North Yorkshire and York, in expectation of this letter inviting us to submit proposals.
"We still believe this is not the right time for local government reorganisation, as we are all focusing our efforts on supporting our communities and businesses through the Covid-19 pandemic.
"However, we fully expect North Yorkshire County Council to submit a proposal for a 'mega-council', which would create a massive imbalance in any combined authority. North Yorkshire is five and a half times the size of Greater London; it's as big as Bedfordshire, Berkshire, Buckinghamshire, Hertfordshire and Oxfordshire combined.
"This means we will have no choice but to submit our alternative model. The district and borough leaders have held a range of consultation events over the last few months with local people, businesses and organisations. We have listened carefully to their views, in order to get change right, and we know there is growing support for our model.
"District councils are deeply embedded in the fabric of their communities, towns and cities; this has been evident in our swift and effective response to the Covid-19 crisis.
"We know many people fear that in a county-wide unitary, local knowledge and representation of local communities will be lost, and this is a real danger.
"Our model will enable service delivery improvement across the whole of the City of York and North Yorkshire, whilst minimising disruption to key services, especially for vulnerable groups and safeguarding. Our model will enable existing partnership working to grow and strengthen, to promote strong, safe, inclusive and healthy communities.
"We recognise how important devolution is to the region and the east/west model is the strongest approach to achieve a balanced combined authority with an elected mayor.
"The KPMG document is a key piece of research which supports our case; however, we will also be submitting further evidence to Government as part of our bid. We will continue to engage with residents, businesses and local organisations and partners as we finalise our case for an East and West model."
The district and borough council leaders are: Cllr Richard Foster (Craven), Cllr Mark Robson (Hambleton), Cllr Richard Cooper (Harrogate), Cllr Angie Dale (Richmondshire), Cllr Keane Duncan (Ryedale), Cllr Steve Siddons (Scarborough) and Cllr Mark Crane (Selby).