You are here:
New measures to improve safety and social distancing in Craven's High Streets
New measures to improve safety and social distancing in Craven's High Streets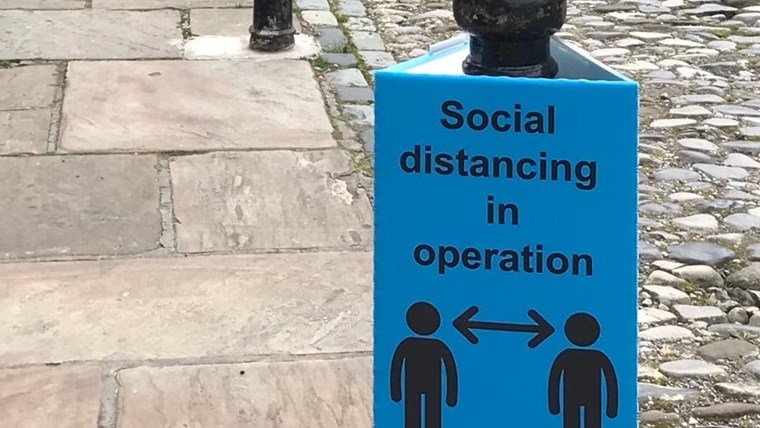 Craven District Council is installing new signs in High Streets across the district to improve social distancing and help shoppers and businesses feel safe.
The Council has been working in partnership with parish and town councils and local business groups to establish what is needed to keep local economies running safely during the Covid-19 pandemic.
Pedestrian-friendly routes are being waymarked in Skipton, directing people on the safest ways around the town, along with new bollard sleeves in Grassington, hand sanitiser stations, and planters in Ingleton, Bentham, Settle and Cross Hills.
Signage in all High Streets is being increased to reinforce the social distancing message.
The project is being funded by the Government and the European Regional Development Fund as part of the Reopening High Streets Safely scheme.
Councillor Simon Myers, Craven District Council's Lead Member for Enterprising Craven, said: "The council is doing everything within its power to support local businesses and the local economy, while keeping people safe.
"We know the impact of Covid-19 has been severe for many local companies and workers. We also know that some people may feel anxious about shopping in town and village centres.
"That's why we're taking further steps to improve social distancing while encouraging people to shop locally and support Craven's economy.
"We've already taken a number of actions, including the pedestrianisation of Skipton High Street on market days, providing grant funding to businesses, delivering advice and support, and working with Richmondshire District Council and the Yorkshire Dales National Park Authority on future tourism development plans.
"You may see additional measures put in place over the next few months as we continue to balance health advice and safety, with the economic benefits of our High Streets remaining open."
In June 2020, Craven District Council's Policy Committee agreed plans to spend the £50,000 of funding to support the reopening of towns in the district, as part of the Craven Covid-19 Economic Recovery Plan.
The grant is being divided up between the six high streets or neighbourhood shopping areas of Bentham, Cross Hills, Grassington, Ingleton, Settle and Skipton.
It is being spent on measures such as temporary public realm changes, business-facing awareness raising activities, and communications and public information activity, all aimed at ensuring that reopening of local economies can be managed successfully and safely.