Skipton Town Hall receives £66,099 from the Government's Culture Recovery Fund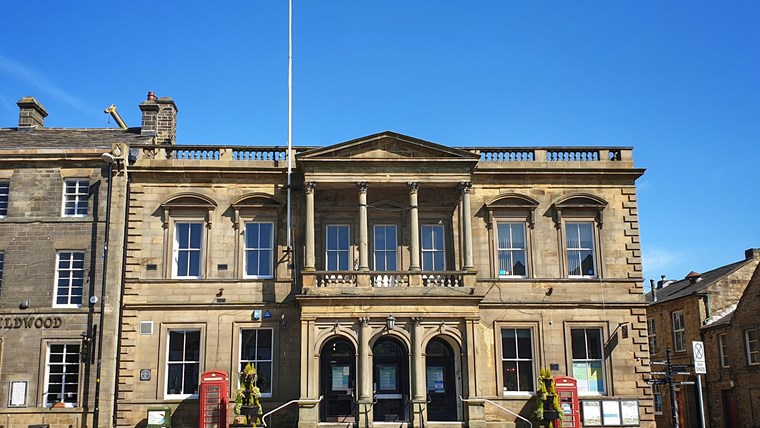 Skipton Town Hall has been awarded £66,099 as part of the Government's £1.57 billion Culture Recovery Fund (CRF) to help face the challenges of the coronavirus pandemic and to ensure they have a sustainable future.
The award will fund essential Covid-19 safety infrastructure, PPE and distancing equipment at the Town Hall to allow the venue to reopen safely in spring 2021.
The funding will also cover the cost of setting up an e-commerce function to help the venue diversify its income streams.
Councillor Simon Myers, Lead Member for Enterprising Craven at Craven District Council, said: "We're delighted we have been successful in bidding for this funding. The redevelopment work at Skipton Town Hall is progressing well and we are looking forward to reopening next year.
"We know we are still likely to face challenges relating to Covid-19 for some time and the work carried out with this funding will be essential to the Town Hall's survival as we navigate the inevitable reduced capacities involved with social distancing.
"The reopening and success of the Town Hall is important not just to the cultural life of Craven but also to the district's economic sustainability. We are creating a cultural hub and a creative community space which will benefit residents and attract more visitors to the district."
When completed, the £4.5 million redevelopment project will deliver a restored and upgraded Concert Hall, a completely redesigned Craven Museum, and a new gallery space.
A new extension at the back of the Town Hall will house a dedicated education space, museum store and research facility, plus flexible use dressing rooms and toilets, including an accessible Changing Place Toilet. Two accessible lifts are being installed to the front of the new museum and within the rear extension.
Skipton Town Hall is one of 1,385 cultural and creative organisations across the country receiving urgently needed support. £257 million of investment has been announced today as part of the first round of the Culture Recovery Fund grants programme being administered by Arts Council England. Further rounds of funding in the cultural and heritage sector are due to be announced over the coming weeks.
Culture Secretary Oliver Dowden said: "This funding is a vital boost for the theatres, music venues, museums and cultural organisations that form the soul of our nation. It will protect these special places, save jobs and help the culture sector's recovery. 
"These places and projects are cultural beacons the length and breadth of the country. This unprecedented investment in the arts is proof this government is here for culture, with further support to come in the days and weeks ahead so that the culture sector can bounce back strongly."
Chair, Arts Council England, Sir Nicholas Serota, said: "Theatres, museums, galleries, dance companies and music venues bring joy to people and life to our cities, towns and villages. This life-changing funding will save thousands of cultural spaces loved by local communities and international audiences. Further funding is still to be announced and we are working hard to support our sector during these challenging times."