You are here:
Fantastic new local art on display at Skipton Town Hall's Hub
Fantastic new local art on display at Skipton Town Hall's Hub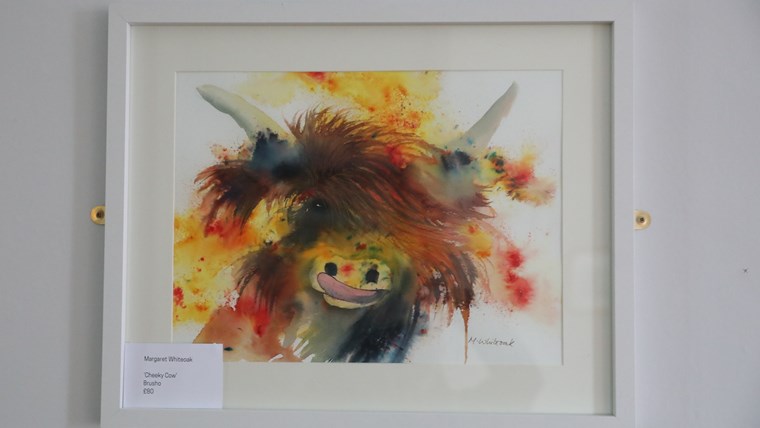 Exciting new work from local artists has been installed at the newly renovated Hub space in Skipton Town Hall.
The work is available for purchase directly from the artists and includes paintings from Anna Hewlett, textiles from Jane Wallbank, and drawings from Emmy Turner and Margaret Whiteoak.
Anna Hewlett, a member of Cononley Art Group, is an Associate of the British Watercolour Society and has sold paintings in Harrods and Liberty's in London.
She studied at Bradford Art College and sold her first paintings aged 14 at the Craven Art Club.
"I was born right arm first," she said. "My father, Dr Watson, who was a GP in Skipton, always said I was born reaching out for a paintbrush."
Margaret Whiteoak has lived all her life in and around Skipton and always wanted to paint but only took it up after retirement.
"I joined a local art club, went on courses and attended a weekly life drawing class and discovered that this was something that I really enjoyed and could actually do," she said. 
Jane Wallbank is a textile artist who loves working with fabrics and using her sewing machine as a drawing tool. She enjoys creating pictures of the local landscape using free machine embroidery, embellished with hand embroidery. Her work is shown in The Lime Gallery, Settle and The Old Bath House at Harlow Carr.
Emmy Turner is a 19-year-old old illustrator from Skipton who specialises in coloured pencil drawings and particularly enjoys drawing wildlife and pet portraits.
Danielle Daglan, Craven District Council's Programming & Venue Development Manager for Skipton Town Hall, said: "We are keen to celebrate and promote artists and makers from across Craven as we continue to develop as a cultural hub for the region – we have some amazing talent and creative skills across the district, and it is a pleasure to be able to display work here where so many visitors can enjoy it and have the opportunity to purchase individual pieces."
The Hub is also available for private hire from £11.20 per hour plus VAT, and the interval bar in the Hub space is now open during performances, for pre-show and interval drinks, ice creams and other snacks. To find out more about hiring the Hub, please contact TownHallBookings@cravendc.gov.uk.
For more information about events taking place at Skipton Town Hall during spring and summer 2018, please go to https://www.cravendc.gov.uk/skipton-town-hall/whats-on/