New Bin Collection Points to be rolled out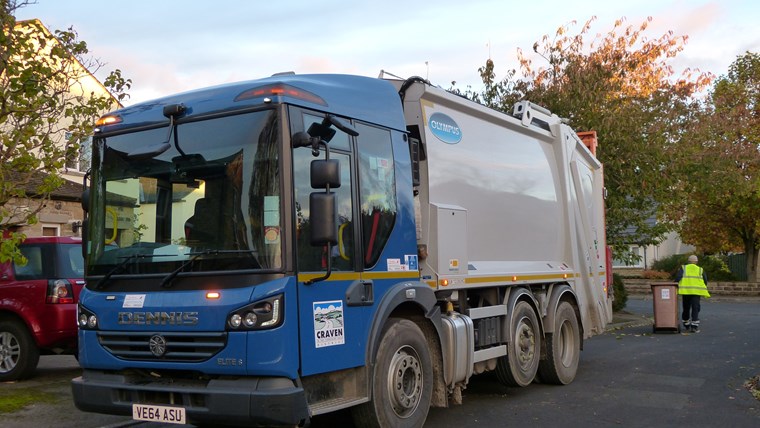 Craven District Council is beginning a consultation with residents who will be affected by a roll-out of the Bin Collection Point Policy.
The policy was introduced back in 2014 after the Health and Safety Executive told the council it must review its bin collection services, as waste collection crews are at risk of repetitive strain injuries.
Crews deal with hundreds of bins a day and it is thought they could suffer injuries by having to drag them repeatedly up back streets to the refuse collection vehicles.
Residents of affected households are therefore being asked to take their bins to collection points, to reduce the risk to the collection crews.
A pilot of the scheme began in 2015, when around 600 properties moved to lane-end collections, and the changes are now set to affect around 2,000 more households, predominantly terraced properties with rear alleys.
Letters are being sent to affected residents over the next few weeks, setting out the reasons for the change and identifying a proposed collection point for their property.  
Councillor Carl Lis, Lead Member for Greener Craven, said: "We have no choice over implementing this policy in order to protect our staff, as the Health and Safety Executive advised.
"We are giving residents the chance to discuss these proposals with Waste Management so that we can find the most sympathetic solution.
"Of course, those residents physically unable to move their bins will still be eligible for assistance under the Council's existing Assist Scheme.
"We recognise that this may cause concern for some residents and it will be a change for people to deal with. We are asking residents to work with us to help agree collection points for their properties so that we can find an acceptable solution."
The letters make it clear that residents will have the opportunity to discuss alternatives with members of the Waste Management team though they will have to bear in mind that a suitable collection point will have to be identified.
Any residents who cannot move their own bins due to disability, illness or infirmity, will be eligible for assistance under the council's existing Assist Scheme. Those residents who are already receiving assistance will not be affected by these changes and their bins will continue to be collected from their existing collection point.
Householders are being advised to clearly mark their bin with their house number so they can be easily identified after collections have taken place.
To apply for waste assisted collections, go to www.cravendc.gov.uk/assist or send a request by letter to Waste Management Services, Craven District Council, 1 Belle Vue Square, Broughton Road, Skipton, North Yorkshire, BD23 1FJ, or call the council's Customer Helpline at 01756 700600.