You are here:
Face to face Healthy Lifestyles weight management classes now available
Face to face Healthy Lifestyles weight management classes now available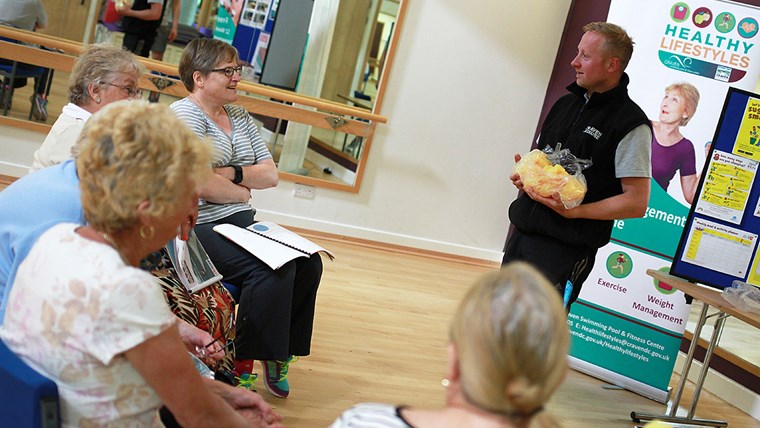 Craven District Council's Healthy Lifestyles programme is now offering face to face sessions once again. 
Sessions will initially be run at Craven Leisure, with the aim of rolling them out to other community venues in the future.
Online sessions, which have been running throughout the pandemic, will still be available for those who are unable to attend in person.
The 12-week Healthy Lifestyles programme is free, combines exercise with nutritional advice and is run by a team of qualified weight management advisors from the council's Craven Leisure centre.
The scheme is available for people with a BMI of 30 or above, or people with a BMI of 25 or above who are also in a black or minority ethnic group, or have conditions such as Type 2 diabetes, cardiovascular disease or hypertension. Participants must also be 18 or over, and live, work or be registered with a GP in Craven.
Steph Harrison, Healthy Lifestyles Coordinator at Craven District Council, said: "We're really looking forward to welcoming clients back to face to face classes. Measures are in place to ensure that these sessions are safe for clients and staff.
"This is the ideal time to tackle your health and fitness so if you're interested in signing up, please get in touch. We've had some great successes in the past and we'd love to help you improve your wellbeing."
From May 17, classes will be available on Mondays from 2.15pm-3.30pm and 7pm-8.15pm, on Tuesdays from 1.30pm-2.45pm, on Wednesdays from 2pm-3.25pm and 6pm-7.15pm, and on Fridays at 2.45pm-4pm. All classes are at Craven Leisure except for the Wednesday evening session which is at Belle Vue Square in Skipton.
Weekly sessions include a weigh in, nutritional support and an exercise component in the comfort and safety of the client's own home.
Alongside these sessions, clients can access online workouts and peer group support - sharing recipe ideas, walks, hobbies etc. as well as information supporting mental health. From March 29 outdoor exercise classes will be available again and when Craven Leisure is open, clients can use free gym and swim weekly passes.
Participants also get a range of incentives including a Keelham Farm Shop voucher booklet, a free fruit or vegetable box to help with healthy choices, and a month's free membership at Craven Leisure if their 5% target weight loss is sustained at 24 weeks.
In 2020, despite exceptional circumstances, the Council's Healthy Lifestyles team helped 74 people lose at least 5 per cent of their body weight.
62 per cent of those maintained at least 5 per cent weight loss at 24 weeks.
People can self-refer through the Craven District Council website at https://www.cravendc.gov.uk/craven-leisure/healthy-lifestyles/weight-management/ or email healthylifestyles@cravendc.gov.uk or call 07935010318 for more information. You can also be referred by your GP.